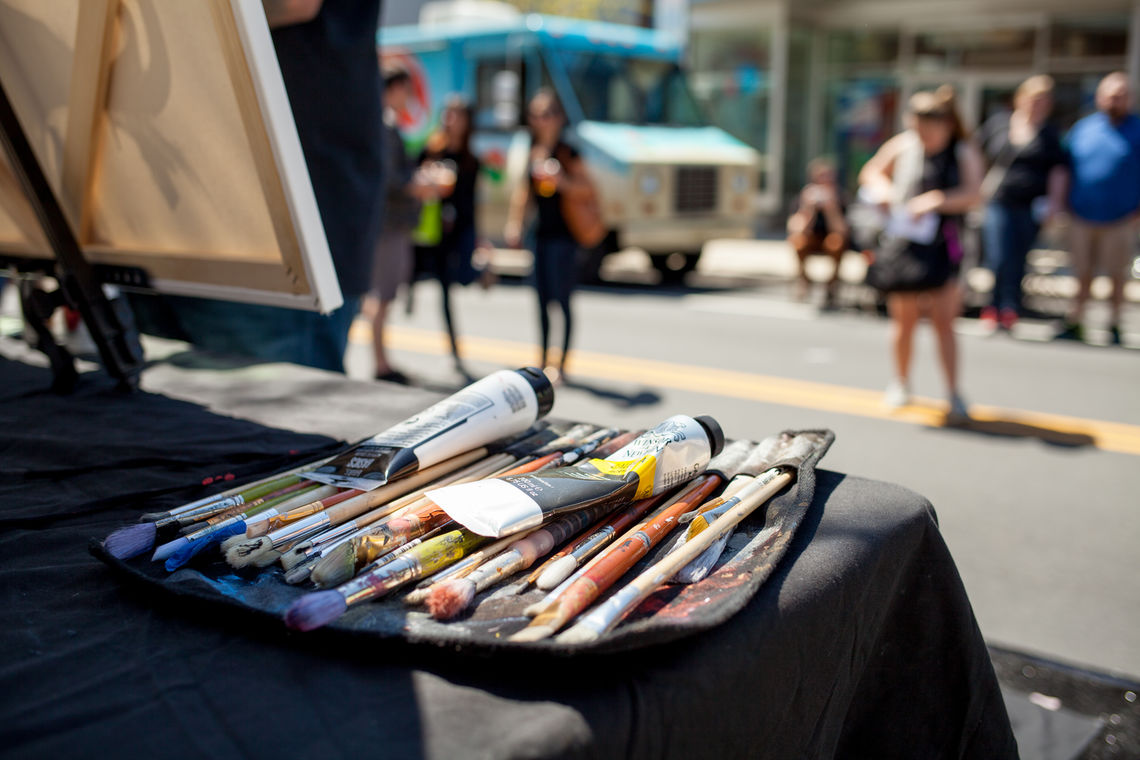 Overview
Artistry runs deep in Roxborough, and there's no better stage for seeing it than at our annual Art is Life festival. Three main stages. Dozens of pop-up shops. Vendor tables lining the main artery of our neighborhood. This is a place for creative energy, fine craftsmanship, craft news, locally-sourced cuisine, and art of just about every kind.
 
Roxborough Pocket Park Opening
The Roxborough Pocket Park, a public flex-space in the heart of Roxborough, will open with a ribbon-cutting ceremony in conjunction with Art Is Life on Saturday, April 21, 2018 at 12:30 p.m. The Roxborough Pocket Park opening also includes the dedication of Watershed, a mural by internationally recognized artist and Roxborough native Paul Santoleri, produced in partnership with Mural Arts Philadelphia. To learn more about the Roxborough Pocket Park click here.
 
2018 Food Vendors
Glammy's Funnel Cakes & Cookies
Kool Kones Ice Cream
2018 Artists & Crafters
Catalyst Accessories
Designs By Monet Jewelry
Emily Burke
Gourmet Candle
Ideate
JOAN BY J. SOAP CREATIONS
Keli O'Dell"
Lil' Fishy
Merge Dance Studio
Miss KooRoo's Bead Designs
Patrick Michael Accessories
Philly Phaithful
PHILLY WORD ART
Photographs by e.a.kennedy3
Rabbity Goods
Radiant Soap
Soap by Alana
SS's Fashion Accessories
The Chef's Duds by Deb
This Urban Cottage
Wilde Street Studio
And more! 
Last Year's Art Is Life Event Video
Getting To Art is Life
Roxborough is very accessible both by automobile and by public transportation. Taking public transportation is highly recommended.
Dupont Shoppers Parking Lot – 514 Dupont Street
Leverington Shoppers Parking Lot– 465 Leverington Avenue

SEPTA has many direct bus routes to get to Art is Life, bus line information and detours are listed below: 

SEPTA Route 9- North at Roxborough Avenue and Ridge Avenue
SEPTA Route 9- South at Ridge Avenue and Gates Street
SEPTA Route 27- North at Ridge Avenue and Lyceum Avenue
SEPTA Route 27- South at Ridge Avenue and Lyceum Avenue
SEPTA Route 32- South at Ridge Avenue and Lyceum Avenue
SEPTA Route 35- North at Roxborough Avenue and Ridge Avenue
SEPTA Route 35- South at Ridge Avenue and Gates Street