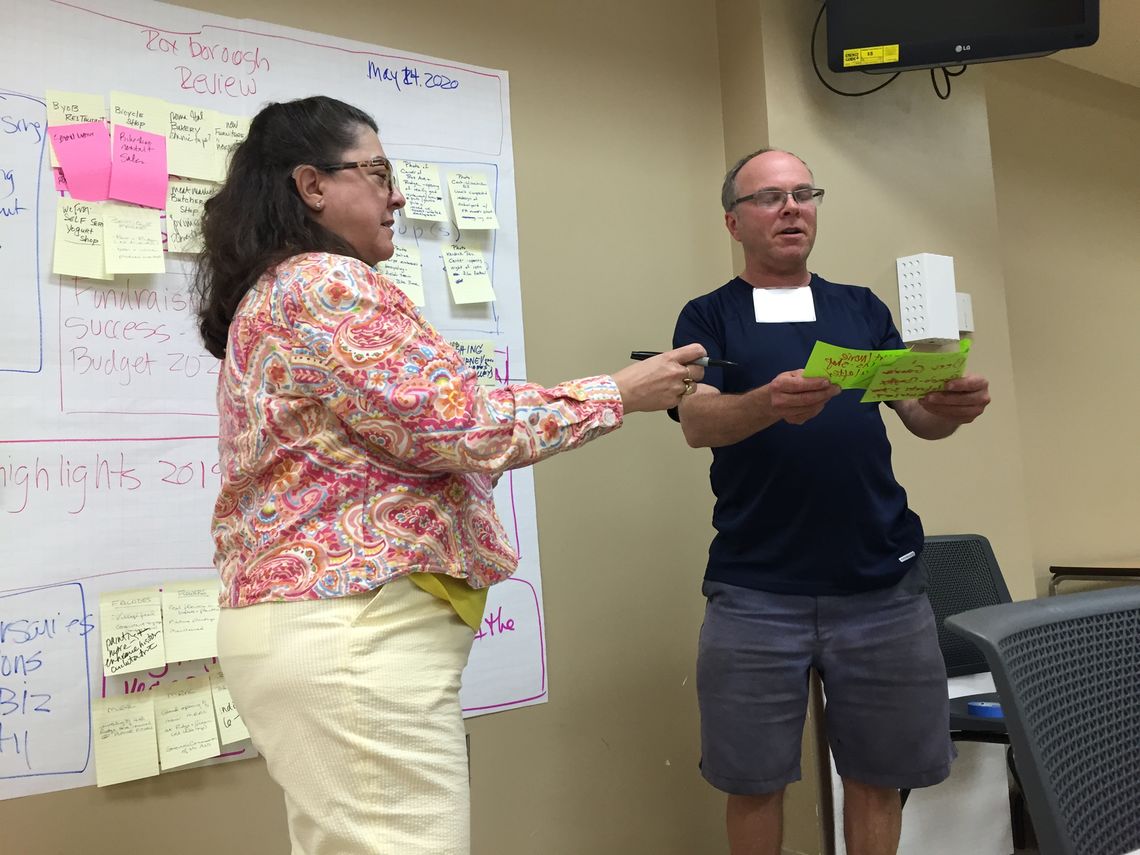 Our Vision for Ridge Avenue in 2020:
By 2020 Ridge Avenue will be the heart and hub of the Roxborough neighborhood where residents find a thriving commercial district with exciting restaurants and a growing number of independent retailers and national chain stores.
The commercial corridor is effectively managed with the Roxborough Development Corporation (RDC) taking responsibility for all aspects of the customer experience, including event planning; way-finding signage; installing gateways, banners, and holiday decorations; maintaining planters and trees; parking management; and its traditional role in assuring that the corridor is safe and clean.
Throughout the week, customers visit Ridge Avenue's fine compliment of retail shops and restaurants or have an appointment at the numerous small offices or professional service providers along Ridge Avenue. Workers at Roxborough Memorial Hospital and our other major neighborhood employers use our commercial corridor daily before and after work and at lunchtime. On weekends, Ridge Avenue will be crowded with Gen X couples running errands and with Baby Boomers trying out the newest restaurant or shopping in an independent shop that is new to the Avenue.
Ridge Avenue is alive with color year-round, through our seasonal flower displays and place making signage. Our extensive tree cover shades pedestrians in summer, and provides visual interest in spring and fall. The organization takes responsibility for maintaining and placing quality way-finding signage and festive holiday decorations. The well-regarded way-finding system and new kiosks show pedestrians where to find their favorite store or restaurant. The organization is responsible for landscaping and managing the two parking lots purchased or leased from the City, and for installing and programming the new pocket park. Ridge Avenue is always sparkling as a result of regular sweeping and cleaning. There is consistent and visible policing, thus assuring that our corridor is safe. The extensive stock of historic buildings along Ride Avenue continue to be well maintained and are celebrated through history-related events and activities year round. In the last five years, we completed the final phase of our streetscape project which has been a total success.
The RDC is the "go to" place for businesses that wish to locate or expand on Ridge Avenue. When the rare storefront vacancy occurs, new and appropriate uses are found, as the RDC maintains a list of interested local and national retailers. The recent spate of award-winning new construction compliments the existing historic buildings, bringing vital new uses to the district. The RDC continues to manage the two multi-use properties it developed and has attracted tenants that are well loved community anchors.
The RDC works closely with the Civic Associations and other neighborhood nonprofit organizations to host major special events throughout the year that bring people to Ridge Avenue and keep our sidewalks and parking lots full. Our Ridge Avenue business owners actively participate in the events and co-op advertising sponsored by the RDC. Year round, the beloved sidewalk cafes, shops and entertainment venues keep Ridge Avenue hopping. We work closely with the merchants to promote a handful of high quality and creative retail events each year that appeal to neighborhood residents.
Our partnerships with Roxborough's civic and religious organizations are highly developed and beneficial to both parties, thus fostering renewed citizen involvement and community pride. The RDC continues its longstanding, productive and cordial working relationships with our elected officials at the City, Commonwealth and Federal levels. The RDC is a full partner with the Commerce Department on merchant and storefront issues. We work closely with the City of Philadelphia on any local planning or capital project in the corridor and host ribbon cuttings, events, and other publicity to promote a positive image of Ridge Avenue.
By 2020, the operating budget for the RDC has increased to more than $500,000. There is superb Board and staff leadership. The Board manages a staff of five including an executive director, a marketing and communications manager, an administrative assistant, two Ridge Avenue Ambassadors, as well as an array of interns and student workers.  More than 80 volunteers on the roster provide leadership for and mount our award-winning festivals and retail events for the neighborhood.
The hard work of the RDC to improve Ridge Avenue during the last five years has been a real catalyst. Our property values have increased; our public schools are on the upswing; and the economic well-being of the greater Roxborough neighborhood has markedly improved.
We were elated when Roxborough Development Corporation won the Great American Main Street Award from the National Main Street Center, a testament to our hard work. In 2020, the Ridge Avenue commercial corridor is truly an exciting place to shop, live, work, and play.
Roxborough 2020 Accomplishments
Roxborough Signature Event Series: attracting over 85,000 special event visitors to Ridge Avenue Roxborough through special events.
Roxborough Pocket Park: design, fundraising and construction of Ridge Avenue's first private-public space project.
RoxboroughPA Rebranding: The www.roxboroughpa.com website launch with over 70,000 users to date.
Ridge Avenue Vacancy: Guiding developers, real estate brokers and business owners in site selection, property acquisition, plan approvals reducing corridor vacancy rate by 50%.
Zoning & Land Use: The review and comment of 25 zoning appeals and 20 facade improvement projects. Roxborough Neighborhood Commercial Area Zoning Overlays to advance pedestrian activity and walkability (City of Philadelphia Bill No. 150722 and 170996).
Ridge Avenue Maintenance: Manage and maintain corridor's 140 street trees, 75 Pennsylvania Avenue planters and 50 Basix Collection planters. Removal of over 160,000 gallons of trash and debris from Ridge Avenue.
Click here to view the Roxborough 2020 plan
Roxborough 2020 Next Steps seeks to recap and reflect on the work of Roxborough 2020, build off of that success and prioritize new planning efforts over the coming years.