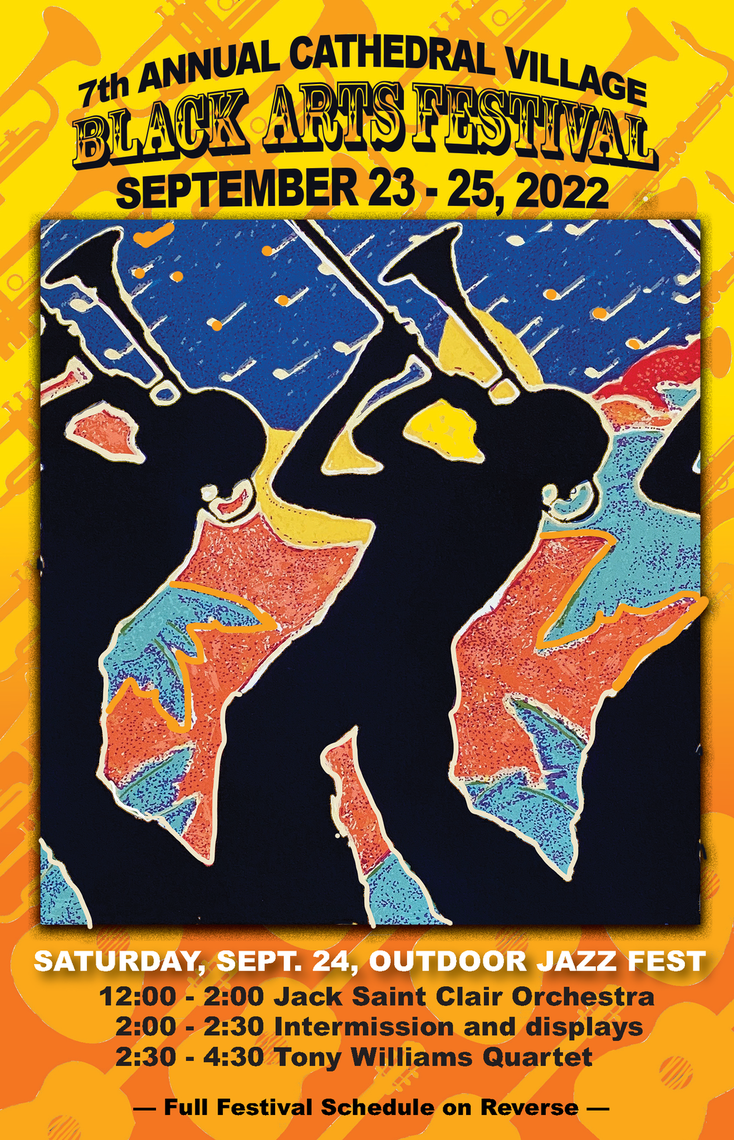 FESTIVAL SCHEDULE, 2022
— Program Summary —

Meet the Artists: Friday, Sept. 23, 7:00 pm.
Noted Philadelphiaarea visual artists Mikel Elam, Terrill Kevyn Johnson, and RenataMerrill will discuss their work which will be on display Sept. 23rdto Oct. 29th at the Top of the Stairs Gallery at Cathedral Village.Both Mr. Elam and Mr. Johnson will present paintings while Ms.Merrill, a fabric artist, will present her quilts and designs.

Jazz Fest: Saturday, Sept. 24, 12:00-4:30 pm.
Outdoor performances by some of Philadelphia's top jazz groups, including the Jack SaintClair Orchestra and the Tony Williams Quartet. Other outstanding
local jazz artists will join in traditional jam sessions and open mic performances.
Gifted African-American visual artists will also have theirwork available for sale. A $10 donation requested for entry.

Black Arts Showcase: Residents' Private Collections, Friday,
Sept. 23 through Sunday, Sept. 25th:
Cathedral Village residentsadd a personal perspective to our Black Arts Festival by lending a wide array of work by African and African-American artists and
artisans — baskets, carvings, cloth, figures, masks, paintings and
books. All on display in the Leamy Room.

Black Stories Matter, Sunday, Sept. 25 at 1:00 pm:
Well known storyteller Irma Gardner-Hammond (from Keepers of the Culture) will be sharing stories for all ages outdoors under the tent.

Clown Performance, Sunday, Sept. 25 at 2:00 pm:
Bringing joy to those of all ages from a Black perspective will be artist-and-clown
Terrill Kevyn Johnson. This outdoor family-oriented finale to ourFestival comes with a special welcome to children and grandchildren of residents, staff and community guests.

Our 7th Annual Black Arts Festival is made possible through the generous support of theCathedral Village Residents' Association, the Cathedral Village Administration, the PresbyterianSenior Living's Partnership in Mission program and a number of local businesses andorganizations. The Festival is open to the community without cost except for the Saturday Jazz

Fest where tickets are sold. The Festival will happen rain or shine.
Cathedral Village • 600 East Cathedral Road • Philadelphia, PA 19128