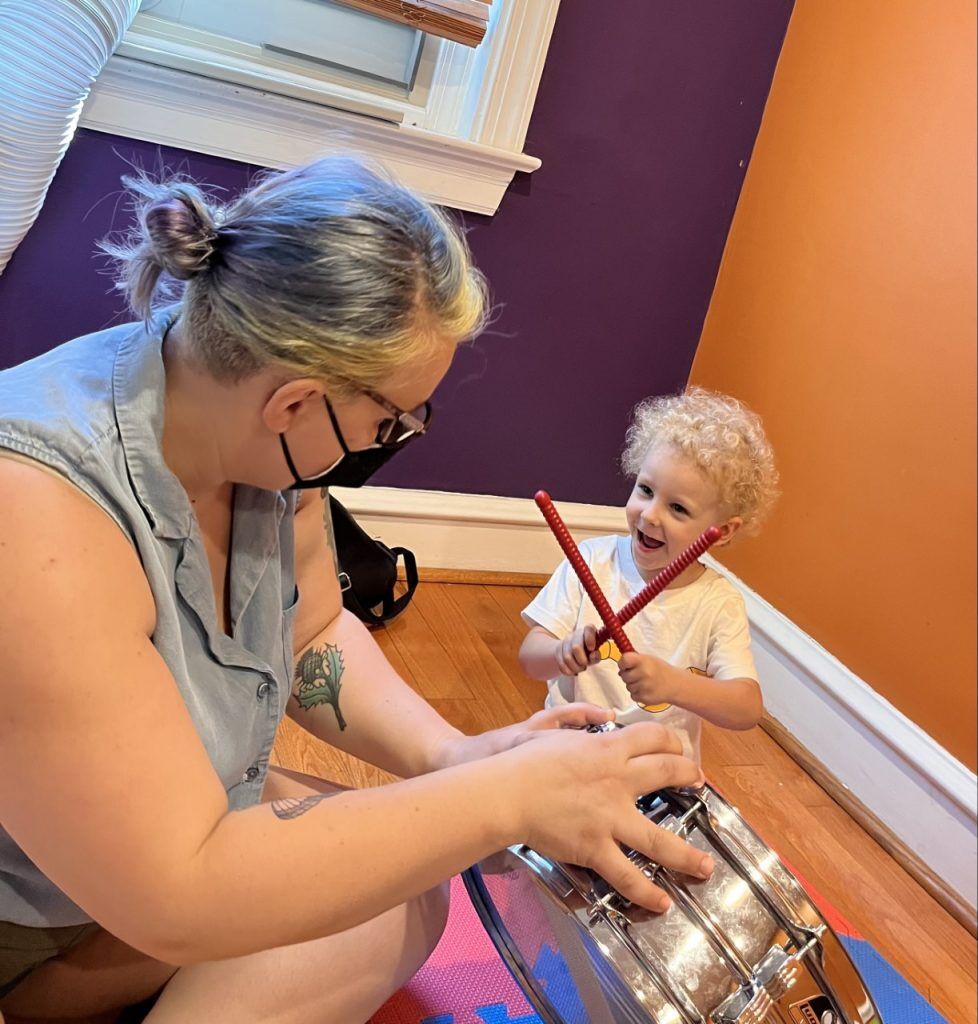 Looney Tuners Instrument Buffet IN PERSON with Molly Hebert-Wilson (Recommended for ages 5-9)

Every Tuesday, 4pm – 4:45pm, November 15th – December 13th, 2022 (No Class November 22nd)
DROP IN STUDENTS WELCOME!
Our Looney Tuners Instrument Buffet Music Classes show kids to how much fun music can be! Class will be broken into two sections – we'll start with an intro to a new instrument each week (guitar, piano, ukulele, bass, and more!), followed by sing-a-longs, stories, and games! Classes will encourage all our little folkies to sing, dance, and play along with the music, led by our teacher Molly Hebert-Wilson, PLUS kids get to a know a bunch of new instruments to get a taste for what they enjoy without a big time commitment! We also take time to introduce them to age-appropriate folksongs alongside children's music and games. Looney Tuners will also learn the fundamentals of rhythm and melody as well as a basic introduction to singing and music theory.
It is a requirement that anyone of age to be vaccinated must show proof of vaccination to enter the Philadelphia Folk School. Additionally, all parents/guardians must be masked throughout class. Mask wearing is encouraged but not mandatory for children who are actively participating in class. If classes were purchased after this policy took effect, they will not be eligible for a refund due to unvaccinated status.
CLICK HERE TO REGISTER FOR LOONEY TUNERS INSTRUMENT BUFFET NOV 15th – DEC 13TH, 2022
CLICK HERE TO REGISTER FOR LOONEY TUNERS INSTRUMENT BUFFET IN THE NEW YEAR, JAN 17th – MAR 7TH, 2023
Loony Tuners & Virtuosi Hand Drums with Teacher Karen (Suggested 5 to 12 years)
There are currently not any of these classes scheduled. If you would like to see more, please email Molly.
In this course, students will be encouraged to become one with the drum by finding their inner rhythms. Teacher Karen will introduce students to rhythm through different percussive instruments and teach them the origin of the instruments. Teacher Karen also emphasizes building confidence through playing instruments. *Drums will be provided by Teacher Karen*
Drum classes can be taken as single, drop-in sessions. Please email for more info.
PFS Presents: Youth Instrument Group Classes
The Philadelphia Folksong Society will be offering a variety of instrument group classes throughout the year. If you do not see the instrument, age range or day/time that works for you, please check back as we are continuously adding new options. If you have an idea for a class or would like to express your interest on what instrument we should teach next, please email Molly Hebert-Wilson.
Discounts available for Members