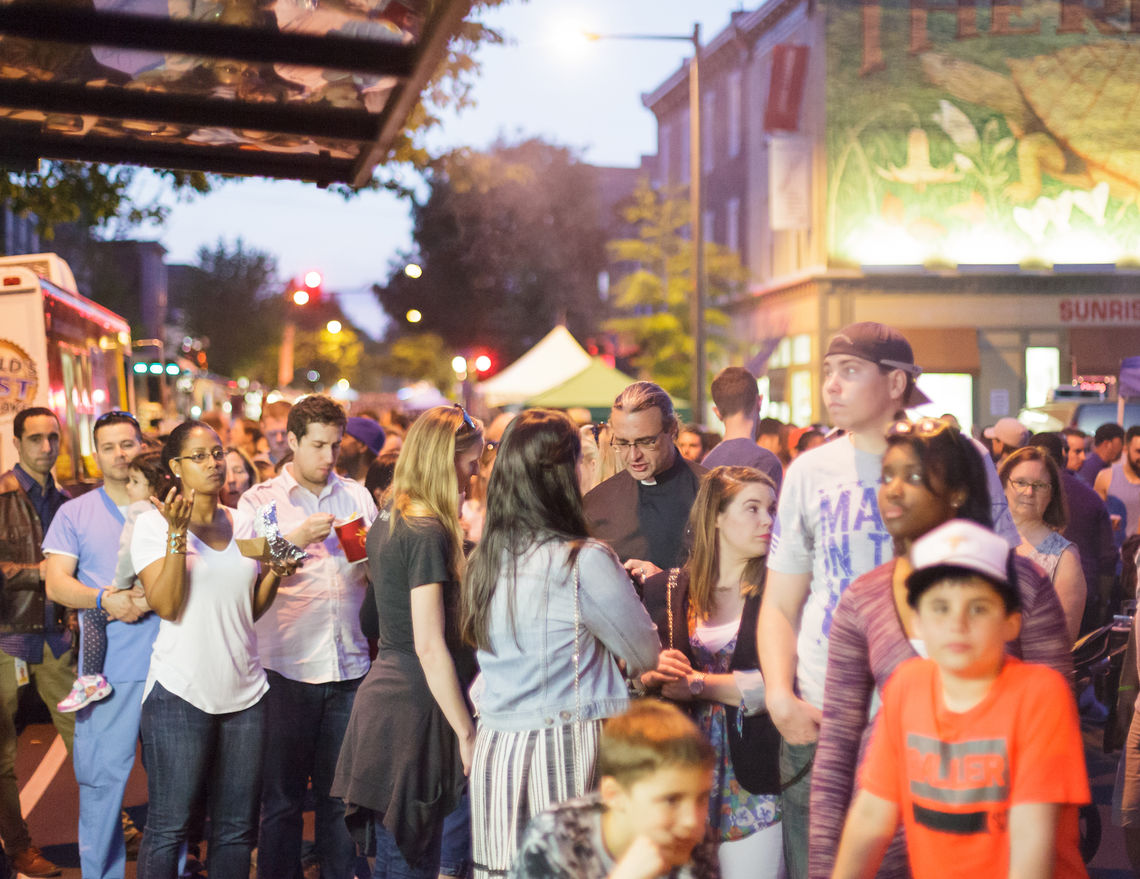 Night Market makes its Ridge Avenue return on Thursday, August 10th. Don't miss these local-approved spots that are staying open for the action.
Local Offerings
Gorgas Park - 6300 Ridge Avenue: Stop by Gorgas Park to enjoy singer/song writer Ben Arnold and get a taste of Philadelphia's traveling beer garden Parks on Tap.
Interact - 6122 Ridge Avenue: Interact will offer a Lego table & free face painting. 
Beggars Banquet Vintage - 6011 Ridge Avenue: Refreshments and 20% off with Instagram or Facebook follow.
Roma's Pizza - 6127 Ridge Avenue: Lina's Special- a white pizza with tomato, ricotta cheese and spinach or broccoli.
Tavern On Ridge - 6080 Ridge Avenue: Live music as well as food and drink specials.
Kitch-n Collectibles - 6151 Ridge Avenue: Antique milkshake and blender deals.
Roxborough Pocket Park - Stop by and chat with Philadelphia Mural Arts and the Philadelphia Water Department to learn about the exciting developments coming to the Roxborough Pocket Park.
Roxborough Development Corporation - 6111 Ridge Avenue: Visit the Roxborough Development Corporation tent to get your official Roxborough merchandise. 
Community Bible Fellowship - 6035 Ridge Avenue: Activities for the whole family including a bounce house, trackless train, obstacle course, water pong and plinko.
Open Late
Beggars Banquet Vintage - 6011 Ridge Avenue
Bob's Diner- 6053 Ridge Avenue
Philly Muscle Tee - 6216 Ridge Avenue
Philly Gainz - 6186 Ridge Avenue
Roxborough Pocket Park - 6170-72 Ridge Avenue
Philadelphia Folksong Society - 6156 Ridge Avenue
Foodery Roxborough - 6148 Ridge Avenue
Tavern On Ridge - 6080 Ridge Avenue
Primo Hoagie Roxborough - 6024 Ridge Avenue
Zesto Pizza - 6024 Ridge Avenue
Shear Luck - 6007 Ridge Avenue
Kitch-n Collectibles - 6151 Ridge Avenue
Cafe Roma - 6147 Ridge Avenue
Dream House Asian Bistro - 6127 Ridge Avenue
Lennie's Hoagies - 6141 Ridge Avenue
Edible Arraignments - 6053 Ridge Avenue
Mina's Pizza - 6151 Ridge Avenue
Getting to Night Market
Bus Detours
Route 9: Southbound- Livezey St
Northbound- Roxborough Ave
Route 27: Northbound- Roxborough Ave
Southbound- Roxborough Ave
Route 32: Northbound- Ridge Ave
Southbound- Walnut Ave
Route 35: Southbound- Livezey St
Train and Shuttle Service
Shuttle from the Wissahickon Regional Rail Station
Drops off/picks up at Roxborough Ave
Shuttle runs from 5:30pm-10:30pm