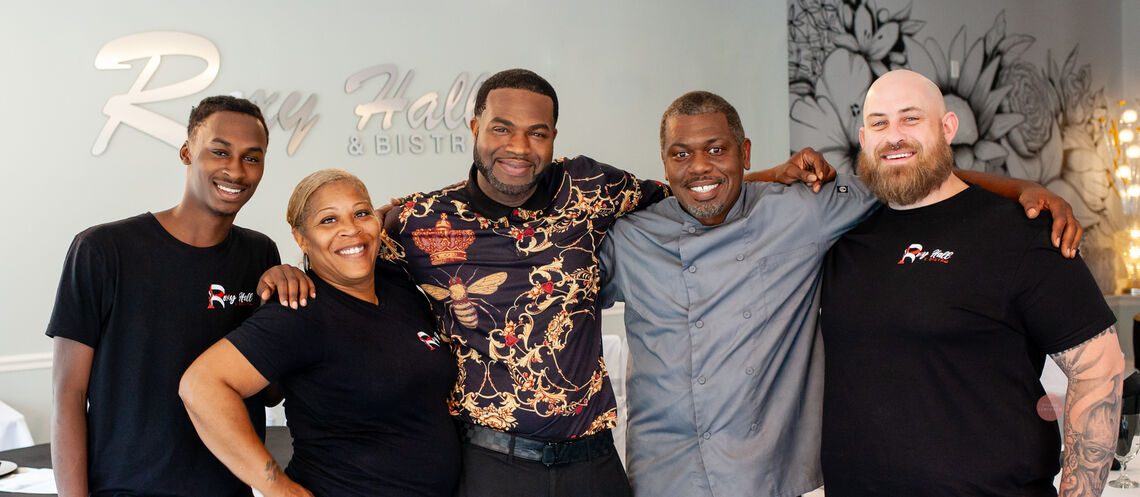 Brian Ajedho and Lynn Miller, owners of Roxy Hall and Bistro, have brought something new to the Ridge Avenue: Caribbean Soul Fusion. Caribbean Rubbed Ribeye, Fig and Goat Cheese Crostini, and Corn Fritters with Paprika, Aoli, and Scallions are just a sampling of their ambitious menu.
Ajedho's father, born in Nigeria and raised in Greece, was the inspiration for Roxy's fusion cuisine. His aim is to bring a nutritious, Caribbean- and Soul-infused twist to American favorites. "I love a good pizza, and I love a good steak or hoagie. But there are not that many healthy or whole food options here. I wanted to offer that and put an upscale twist on it."
Roxy Hall and Bistro (6139 Ridge Avenue) opened in June 2021. It offers a dining room with great views to the street, a tasting room that specializes in locally produced wines, spirits, and craft brews, and outdoor seating on its new backyard deck. "We've transformed our space," Ajedho says.
Ajedho and Miller are entrepreneurs whose ventures have included both a full-service catering company, a bakery, a car dealership, and a printing company. They envision Roxy Hall as a welcoming, inclusive place to eat, drink, and celebrate life's milestones, big and small.
During Roxy's soft opening, Roxy Hall and Bistro will be open for indoor seating on Tuesdays through Sundays from 4:30 pm to 10:00 pm. Those with a craving for Caribean Soul fusion can also order food via DoorDash, Grubhub, or Uber Eats. Ajedho and Miller are also hosting special events – everything from BlacOak Wine Club tastings, comedy nights, and Match.com speed dating events. Information about their events can be found on their Instagram page. 
Roxy Hall and Bistro is now taking reservations for catered events. Their spaces can accommodate everything from weddings with up to 75 guests indoors with the ability to host more outdoors to more intimate gatherings like birthday parties and baby showers.
Book reservations for dinner. Book a private event. For rates and availability, please contact Brian Ajedho at Bajedho@gmail.com