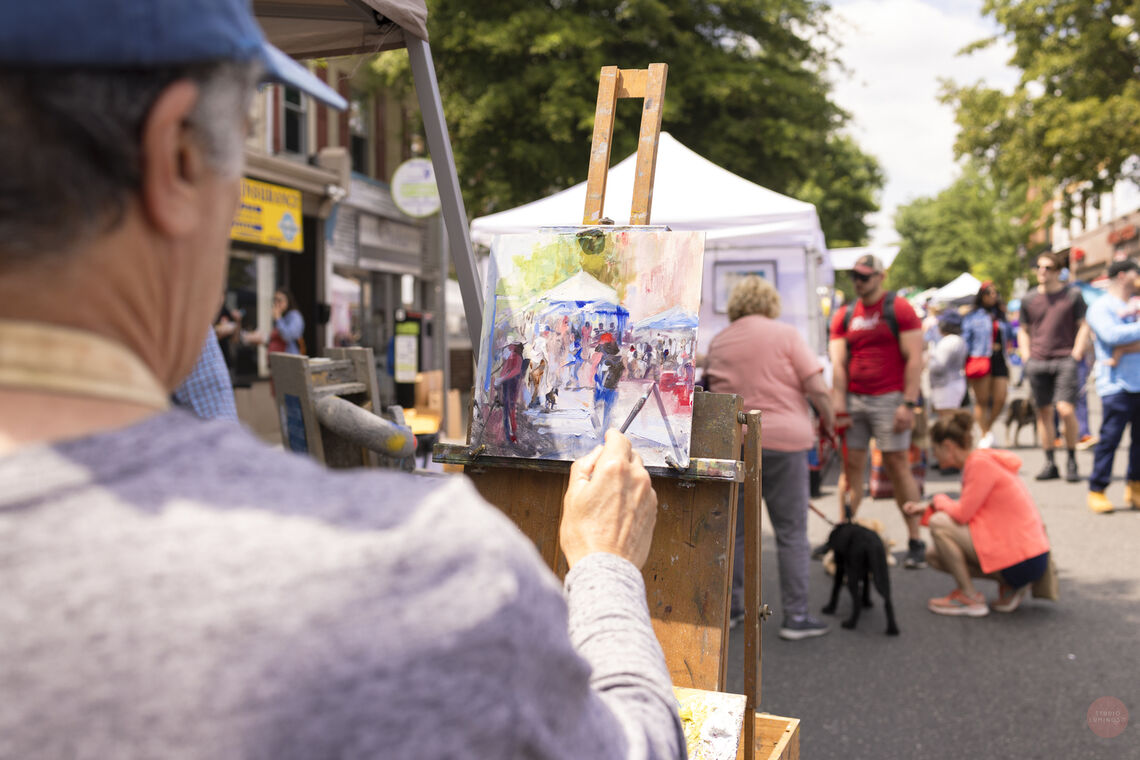 The Roxborough Development Corporation would like to thank all that attended or participated in Roxborough Spring Fest. It was a beautiful day on Ridge Avenue that brought together music and art enthusiasts, local businesses, and the Roxborough community.
One of the highlights of Roxborough Spring Fest was the Lyceum Mainstage, where local musicians took the spotlight and captivated the crowd with their talent. New to Spring Fest was the Mitchell Street Phillibillies, a hometown favorite who played great classic and folky hits.  Local theater companies, Old Academy Players and Venice Island Performing Arts Center shared their passion for performing arts on stage. Children loved the rendition of, "A Whole New World" from Aladdin by the Old Academy Players and adults were rocking out with The Providers who were the final act on the mainstage.
The festival also provided an opportunity to explore the works of over 60 artisans and crafters. From handmade jewelry to unique artwork, visitors browsed through a wide array of unique handmade items and supported local artisans. The glassblower, Badlandz by Design, fascinated attendees with his precision and skill during multiple demonstrations throughout the day. Additionally, Roxborough area schools participated by displaying student art, showcasing the talent and creativity of the younger generation.
From interactive games to meeting Flyleaf the Book Fairy, there were various options to keep the little ones engaged and excited. Flyleaf blew giant bubbles and read stories which added a magical element to the festival. Also, the supersized games like giant checkers made for a friendly competition between the family. Adults loved the variety of food trucks with Bacon on a Stick and Husky Corn Jawn being the talk of the town. New to the festival this year was axe-throwing where adults got bold and adventurous trying a new activity and aiming for a celebration of hitting a bullseye.   
Overall, Roxborough Spring Fest was a wonderful community event that celebrated local talent, creativity, and the spirit of Roxborough. It was a great day to soak up the springtime ambiance, connect with neighbors, and support local artisans and businesses. We hope to see you at our next famous german-themed street festival, Roxtoberfest on Saturday, October 7th (rain date Oct. 8).
Additionally we would like to thank our sponsors for making this event possible! A huge thank you especially to MGMT Residential, Independence Blue Cross, Baker Street Partners, KenCrest, The Galman Group, New Ridge Brewing Co., Shoprite, and The Naked Peach. 
We'd also like thank the following sponsors including, Acme, C & C Creamery, Chaddsford Winery, European Wax Center, Five Star Home Foods, Green Mountain Energy, Koller Funeral Home, NRG, Renewal by Anderson, Rox Falls Vet, S & T Bank, Stateside Vodka, Tierview Development, AFC Urgent Care, Elite Sports Factory, Action Karate, D'Luxe Nails, Heart N Rhythm Nursing, Ray's Appliances, and Summit Park.