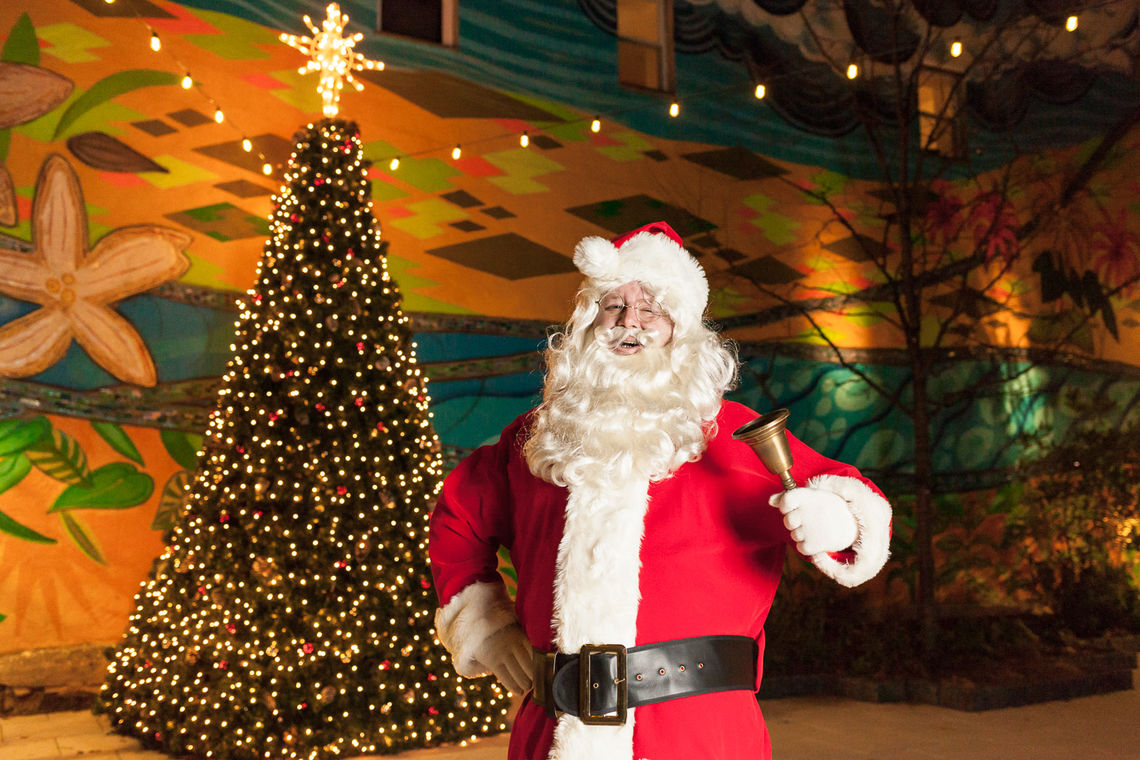 Roxborough's family-friendly holiday event series features complimentary photographs with Santa, children's crafts, the annual Pocket Park holiday tree lighting and more! 
For holiday cheer and wintry magic, there's nothing quite as festive as Roxborough's winter event series. Happy Holidays From Roxborough is a series of stops along Ridge Avenue offering complimentary holiday portraits with Santa, festive food and drink and a place for our residents to celebrate the season in a variety of ways.  All stops are family-friendly, cheerful, and bright! These popular holiday "stops", will take place at various locations along Ridge Avenue in Roxborough on November 29th, December 7th, 14th and 21st.
STOP 1 - Holiday Tree Lighting Ceremony

Light up the holiday tree with Santa and join in on sing-a-longs with local carolers. Keep warm with a hot beverage handed out on site, grab yourself a free s'more or treat yourself to an item from Happy Hour Dive Cart food truck!
When:  Friday, November 29th, 5:00 p.m.
Where: Roxborough Pocket Park, 6170 Ridge Avenue
STOP 2 - Photos & Crafts with Santa

Swing by the UPS Store on Ridge for complimentary portraits with Santa or Elsa from Disney's Frozen. Be sure to bring your letters to Santa, we will have a mailbox to the North Pole on site.
When: Saturday, December 7th, 1:00 p.m. to 4:00 p.m.
Where: UPS Store, 6024 Ridge Avenue
STOP 3 - BYOB Holiday Tidings and Trivia

Cozy up with your drink of choice and test your holiday movie knowledge. All proceeds will benefit the Roxborough Home For Women.
When:  Saturday, December 14th, 6:00 p.m. to 9 p.m.
Where: The Board Game Cafe, 6109 Ridge Avenue
STOP 4 - Winter Wonderland Brunch 
 Indulge in festive food and cocktails as well as family-friendly activities. Bring your holiday cheer as we close out another ROX holiday event series on the Ridge!                                                                                                                          When: Saturday, December 21st, 11:00 a.m. to 3:00 p.m.                          
Where: Tavern On Ridge, 6080 Ridge Avenue
All are welcome and will be able to visit Santa and friends during the Happy Holidays From Roxborough series. Complimentary photographs will be taken at the Tree Lighting Ceremony and The UPS Store stop. Candid color photographs of children and their families will be made available digitally after the events.
HAPPY HOLIDAYS FROM ROXBOROUGH IS NOVEMBER 29th, DECEMBER 7th, 14th and 21st.  
To learn more about Happy Holidays from Roxborough, visit our website or Facebook event page.  You can also follow @roxboroughpa on scoial media.  Event organizers encourage you to share photos while attending the Happy Holidays from Roxborough event series using the hashtag  #holidaysinrox.
Organizers of the 2019 Happy Holidays From Roxborough event series are extremely grateful for the generous support of its event sponsors the UPS Store in Roxborough, Inspire Energy, Planet Fitness and Roxborough Development Corporation.