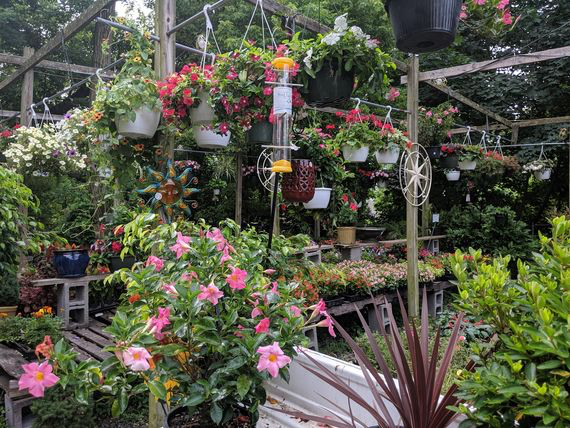 John Lynch never considered himself a plant guy. 
In his early 20s, with a couple years of college under his belt, the Roxborough native was working at Holod's True Value on Ridge Pike in Lafayette Hill, loading fertilizer and lumber, selling Christmas trees and thinking about what he wanted to do with his life. 
"I didn't know what I wanted to do," Lynch, now 43 and a resident of Lafayette Hill, said. "I took the police test. I took the firefighter's test. I didn't like that. My grandfather was a heating and air conditioning guy. I didn't feel like doing that." 
But over the course of six years at Holod's, which has a substantial garden center, Lynch found himself drawn to the plant and garden business.
"I started reading tags from unloading trucks," he said. "And then I started to remember the names, and then, when I was ordering shrubs, I would read the tag. So I started to get familiar with the names. And then I started knowing the plants. So I've sort of just taught myself." 
Now, Lynch, is the owner and operator of one of Roxborough's best resources: The Secret Garden, a large garden center and nursery he built in the back of a beer distributor's parking lot. He's one of the most sought after experts in the area. 
"We just sort of found each other," he says of the plant and garden business. 
While The Secret Garden's removed from the street frontage of its location at 7631 Ridge Ave. keeps it relatively hidden from view, locals know all about it. The business has a perfect 5 for 5-star rating from 25 reviewers on Facebook, and a Yelp score of 4.5 stars. 
"I've always had a great experience here," wrote one Facebook reviewer. "The plants/flowers are healthy and reasonably priced. The staff is helpful. I have recommended this place to folks I know." 
"I've gotten flowers from here for years," wrote another. "They're really the best in the area and the staff are great." 
Lynch began building The Secret Garden in 2004. He had quit Holod's and stopped working for his father's lawn service business. His father, a retired Philadelphia Police Officer, mowed lawns on the side and worked at Holod's. It was Lynch's father who first got him working at the hardware store and garden center. 
A graduate of Saul Agricultural High School, Lynch mentions, it wasn't until he worked at Holod's that he began to get really familiar with plants. He learned the names of shrubs, annuals and perennials. When he left Holod's he approached the owners of the Matthews Bevererage, the beer distributor, to help him set up a chair and table rental business. They didn't have the money to help but told him he could rent out the lot, which at the time was a patch of weeds.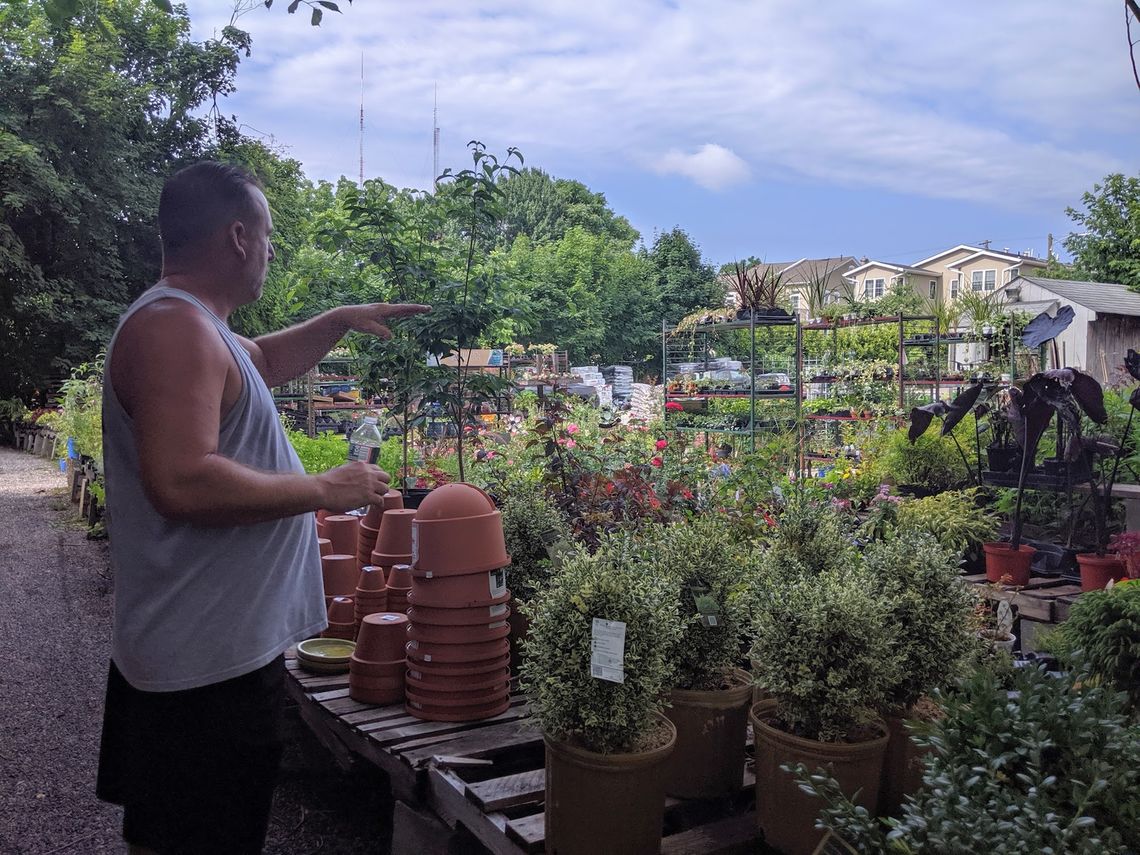 Today, The Secret Garden is a remarkable oasis of plants and flowers, all arranged in an eclectic manner. It invites you to walk around and explore the tables of potted plants, hanging baskets and assorted garden tools and decorations. Birds sing and a bee or two can be found looping from flower to flower. It's easy to forget you're in one of the nation's most populous cities. 
"People that are here for the first time are taken aback by the place," Lynch said. "They can't believe it. I've had people pull in and just walk around, just because they needed a break from the day." 
Lynch mentions he's come to be known for stocking hard to get plants, though he keeps people's favorites on hand as well. Vegetable plants are among his best sellers, with peppers and tomatoes being popular with young people who like to keep them in pots, he said. 
His weekends are always busy, with the lot jammed with customers looking over his plants. Monday remains his busiest weekday. In between running the nursery, he also takes landscaping jobs, planting garden beds for customers in the city and suburbs. 
While he's very busy now, working in 12 to 14 hours a day, seven days a week, Lynch admits he has had his fair share of hardships. There was the recession in 2008 and a downturn in 2012. The last two years have been so wet, it's meant business has not been as good as it has in the past. 
"But I could be worse," Lynch reflects. "I could be stuck in a cubicle looking at a wall day, you know?" 
And after 15 years in the business, Lynch said he's finally able to take some time off. He closes the garden during January and February, a luxury he never had in the past, during which he'd work construction for a friend to make ends meet. Having so many years of success, Lynch is at the point where he's considering a second location, if he can find the right people to help him. He's pretty sure what he's built in Roxborough could work elsewhere. He's certainly developed the customer base to show for it. 
"I've developed relationships," he said. " I see people that you know, I remember when their kids were tiny. Now they're in their 20s. I know so many people just from over the years. I mean, occasionally, you're going to disappoint somebody or shake control everybody. But generally everybody here is pretty good."
This month, The Secret Garden is well stocked with everything you'll need for holiday decorations. Much of the property is presently stocked with Christmas trees of all variety, shape and size. Lynch also has wreaths, lawn decorations and outdoor lights. His hours are from 9 a.m. to 8 p.m. daily.
The Secret Garden, 7631 Ridge Ave., 215-483-5009.