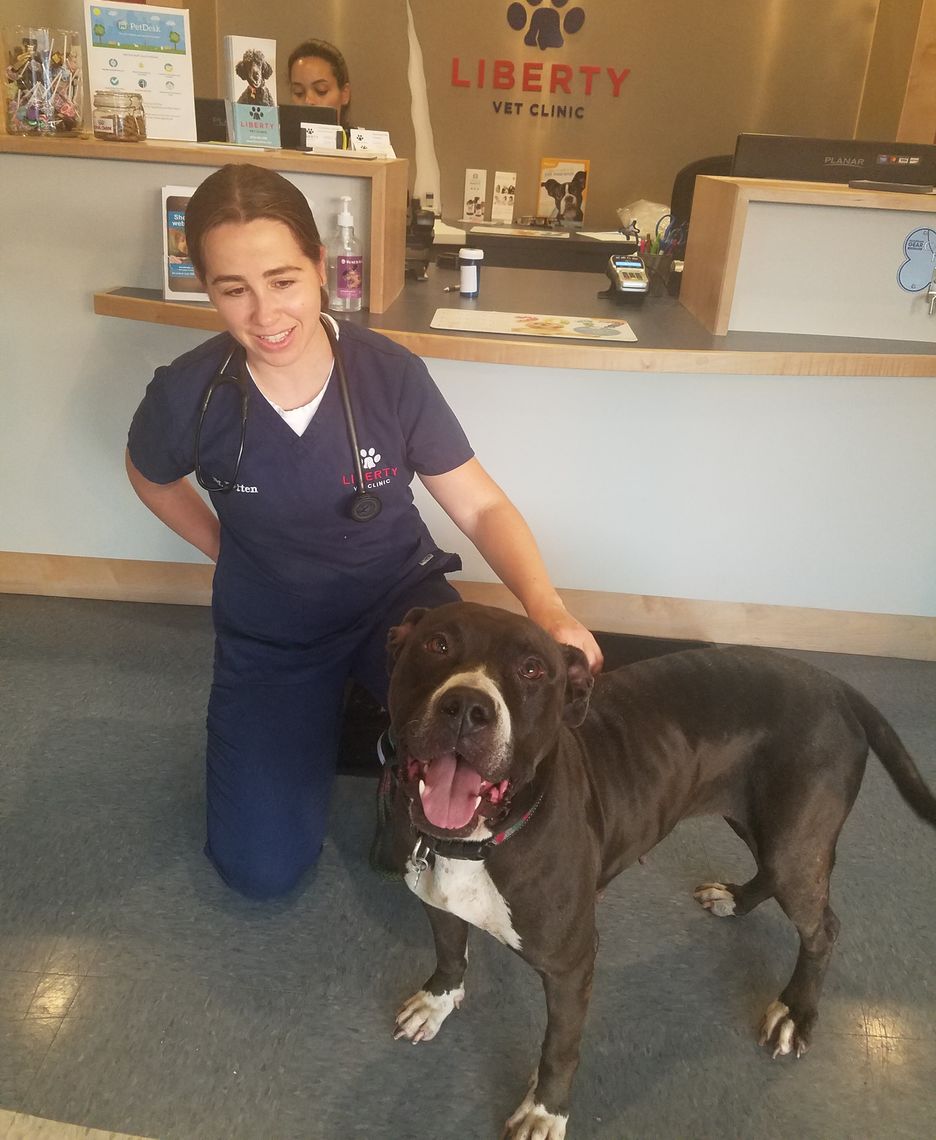 While Hurricane Harvey left many animals in need of rescuing, a local Roxborough Vet was able to lend a helping hand.
In partnership with Pibbles and More Animal Rescue (PMAR), Liberty Vet Clinic was able to provide medical assistance to a pup that was rescued during Hurricane Harvey.  Sweet Rose, a 4-year-old female Pit Bull Terrier was rescued from a shelter in Texas to make room for the pets of people affected by Hurricane Harvey. "She is extremely adorable and sweet," said Dr. Patten. When Sweet Rose arrived at Liberty Vet Clinic she was thin and tested positive for heartworm, a life-threatening parasite which affects dogs.
Heartworm is transmitted by mosquitoes. An affected mosquito transmits larvae when it bites a dog. The larvae then develop into the adult heartworm which live in blood vessels by the heart. Without treatment, dogs can die from heartworm.  Luckily, Liberty Vet Clinic started the initial stages of Sweet Rose's heartworm treatment and she is currently living with a foster family and is doing well.
Liberty has been working with PMAR since the day they opened, about 3 years ago. "In addition to seeing our regular clients we also like to give back to the community by providing discounted services to 501(C)(3) rescue groups".  PMAR brings many of the dogs and cats they rescue from ACCT (Animal Care and Control Team) to Liberty Veterinary Clinic for evaluation and treatment.
"In addition to seeing our regular clients we also like to give back to the community"
In addition to being community centered Liberty Vet Clinic offers a variety of services for all pet related medical needs and ensures that all pets are treated with loving care in every check-up, procedure, or surgery.  Schedule your pets next appointment with Liberty Vet Clinic today by visiting their website at www.libvetclinic.com or stopping by their office located at 8919 Ridge Avenue Philadelphia, PA 19128. If you would like to donate to PMAR and help dogs like Sweet Rose please go to www.pmarinc.org.