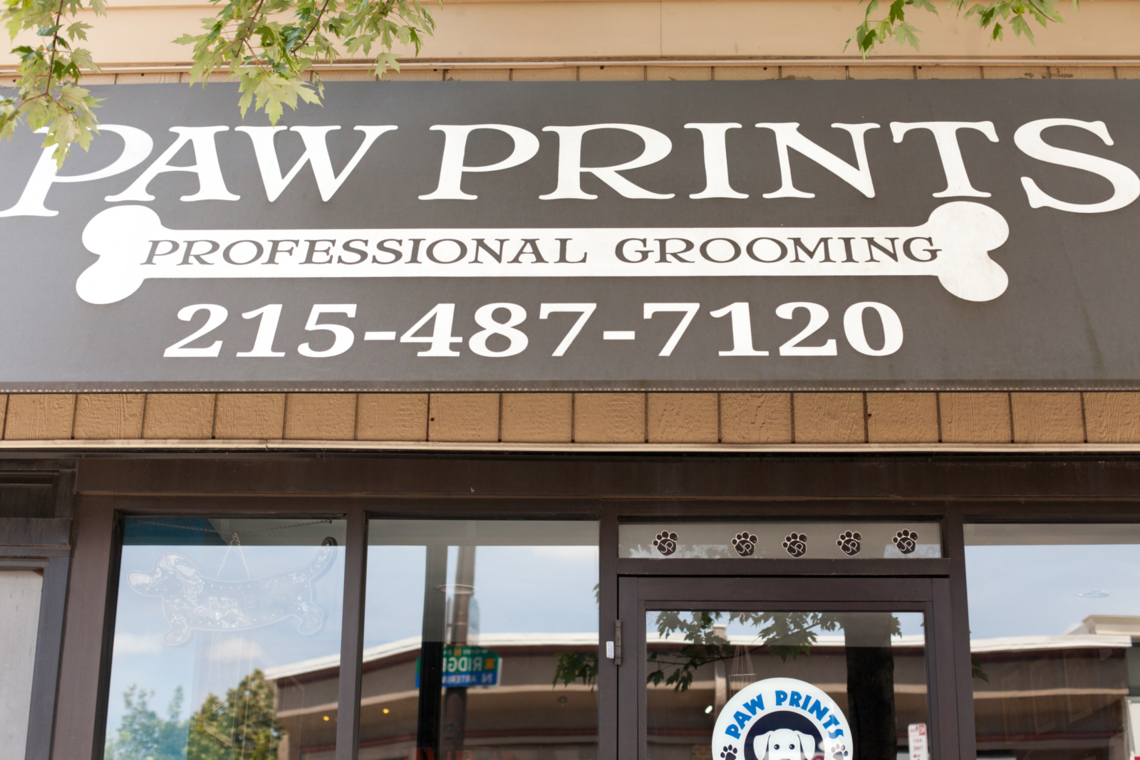 Paw Prints Partners Bring Affection For Animals, Each Other To Grooming Business.
Husband-and-wife team Ramon and Loreta Montenegro are in the business of making "fur babies" more beautiful. Partners in love and enterprise, the duo opened Paw Prints Professional Grooming at 6134 Ridge Ave in Roxborough eight years ago and continue to thrive.
"Animals had always been a common theme in my life," said Loreta, 34, mom to six "children" – two of the human kind, Gianluca, 6, and Aria, 4, and four felines named Khalisi, Oreo, George and Freya. "I've never lived a day without multiple animals."
The Montenegro's officially launched their partnership in 2008, when they married and opened their first business together. Two years later they founded Paw Prints, clipping nails and grooming dogs and cats primarily for Roxborough locals. Ultimately, the couple closed the other business, a hair salon, to focus on their family and the pet grooming.
"So much of our clientele is just neighbors, They're friends, they're family, they go to school with my kids. ...I would have never would have thought to open anywhere else. It's just a comfort level."
"So much of our clientele is just neighbors," says Loreta, who was born and raised in the neighborhood and never ventured far away. "They're friends, they're family, they go to school with my kids. ...I would have never would have thought to open anywhere else. It's just a comfort level."
At Paw Prints, there's nothing shameful or silly about calling your pets your "children" and referring to yourself as their parent.
"A lot of people – whether they do or don't have kids – love these animals as if they were a human," said Loreta as she groomed a well-behaved pooch named "Honey." "I mean, they mourn for them, they spend just as much money on them. And these are the witnesses to our lives, if you think of it that way."
The couple deliberately choose to give the grooming salon a homey rather than clinical feel, and they are mindful of the messages that pets deliver to the staff while they are being bathed or getting their coats styled.
"They make facial expressions the same way we do," she said, "and you have to read them based on the body language. And breed does say a lot."
She hesitates to single out any breed fearing that she'll "stereotype." But she does admit that "traditionally the smaller dogs are feistier than people believe."
"Sometimes this industry isn't regulated by you know, your moral compass, as much as an industry standard," she said. "We knew we didn't want to have that clinical feel and to have more of a homey feel."
They are also cognizant of the disturbing YouTube videos that show groomers using ugly force to manage a pet being groomed. Hence, there's an open-door policy here.
"We kind of designed the business around making the clientele more comfortable,"
"We kind of designed the business around making the clientele more comfortable," said Loreta, who says pet owners worry if they can't see what's going on behind closed doors.
Naturally, animals are the motif inside and outside this spa for furry beings.
A dog bone and paw prints adorn the gray awning on the exterior of the building while inside, pet portraits and posters identifying breeds hang on the walls.
Ramon, 40, who emigrated to the U.S. from Columbia when he was 15, built the table in the front room. The buzzing of clippers and the yelps of nervous pooches emanate from the grooming room, deliberately left exposed for the public to see.
Also occasionally on display here: the affection that husband-and-wife hold for each other. Loreta says the couple would like to open a second location but that would necessitate them working at different locations and they like working together.
"Our customers they know us as a couple," Loreta said. "They know that we have a great working relationship. We done it for over ten years. " Later, she confesses that the staff laughs "because we do kiss, we hug. We've been married 10 years and love each other."
Groomer Abbie Polsin, 25, adds a testimonial: "They're really great to work with. Like, they're funny and they laugh at each other. And I get to work with them both individually as well. ...Ramon's goofy and funny and he's charming and a great guy to work with and understanding. He's a good boss. And then when Loreta's here, we talk about girl stuff, and she gives me boy advice."
Loreta, who attended Archbishop Carroll in Radnor, later received her bachelor of science in business and marketing at Philadelphia University. After college, she managed a Victoria's Secret then later was the Gucci handbag specialist at Saks.
"Those jobs kind of seemed more so in the realm of what I went to school for," she said.
But ultimately the corporate life didn't offer her the control, flexibility or creativity that she uses as an owner of her own business.
She grew up watching her father manage his own Roxborough business, Dr. Ralph's Automotive Services Center at 5200 Umbria St., and says she always wanted to own her own business. She even told that to her supervisor at Saks during an interview.
"She said, 'What do you want to do in the future,'" Loreta recalled. "I said I want to be a business owner. She said, 'That's so cute. All the young girls come in and say that.' And so when I left there it was because I had opened my own business."
Paw Prints Professional Grooming is located at 6134 Ridge Avenue Philadelphia, PA 19128.

Hours are:

Monday: 9:00 a.m. to 2:00 p.m.
Tuesday to Friday: 9:00 a.m. to 5:00 p.m.
Saturday: 9:00 a.m. to 3:00 p.m.
Sunday: Closed

Contact Paw Prints Professional Grooming at (215) 487-7120.