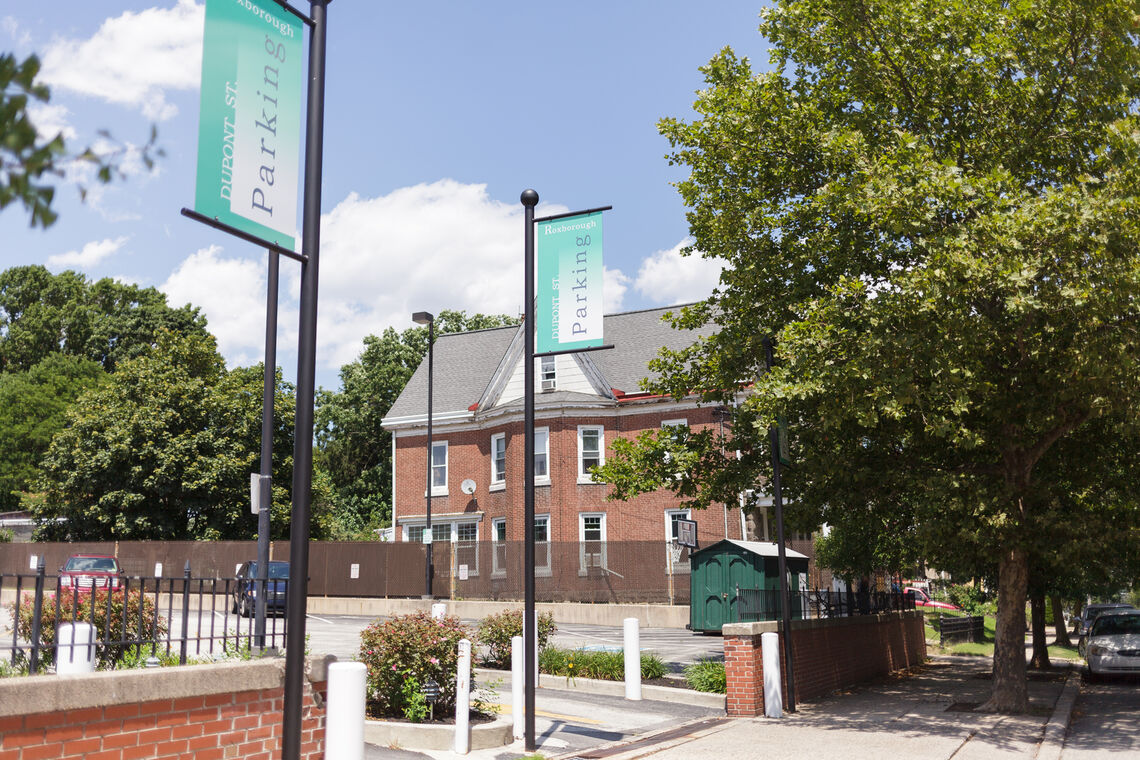 The Roxborough Development Corporation, in partnership with Park America, Inc., will introduce pay-by-plate smart parking kiosks at its Dupont Street and Leverington Avenue Parking Lots on Tuesday, December 1st.
The new parking system will provide users with an easy, convenient, and flexible way to pay for parking. It mirrors pay-by-plate systems being instituted for metered parking citywide. It is a key step in sustaining and improving these popular parking lots. 
The RDC has managed the Dupont Street and Leverington Avenue parking lots for several years. Recently, demand for parking in these lots has grown considerably as 500 apartments and single-family homes were developed and more people began working locally or from home.
"The demand for off-street parking has risen dramatically, leaving us with an unworkable parking model," said James Harry Calamia, Executive Director of the RDC. "This new system offers a comprehensive solution that is user friendly and will allow the lots to evolve with new technologies, ensuring that these important amenities are sustainable and remain in the neighborhood."
"This new system offers a comprehensive solution that is user friendly... and will ensure that these important amenities remain in the neighborhood."

In 2019, the RDC commissioned an in-depth parking study, surveyed over 500 stakeholders and worked with parking consultants to chart a future course for parking in Roxborough. Its research identified professional management, parking kiosks, and a pay-by-plate system as the best strategy for sustaining and improving its parking lots. 
RDC also issued a Request for Proposals to twelve professional parking lot management companies and selected Park America, Inc. after an extensive review process.  Park America was responsible for managing public parking lots in early Manayunk and operates parking facilities throughout the city.
Hourly parking rates will be $1.00 per hour, with a 50% discount for long-term parking on weekdays. Parking kiosks in both the Dupont and Leverington lots will accept coins, bills, and credit/debit cards for hourly parking. The kiosks will use a pay-by-plate system. Visitors will enter their license plate number at the kiosk when they arrive. Payment for parking is verified using the plate number, so no printed ticket will be issued. In addition, select businesses will provide coupons for hourly parking to their customers as a courtesy.  The coupons may be used for complimentary parking on a future visit.
Monthly parking permits will be offered at an introductory rate of $65.00 for a limited time. Residents and others in need of unlimited long-term parking may purchase monthly permits online from Park America, Inc. for either the Dupont Street Parking Lot or the Leverington Avenue Parking Lot. 
For more info, visit www.roxboroughpa.com/parking 
or contact the RDC at 215.508.2358.