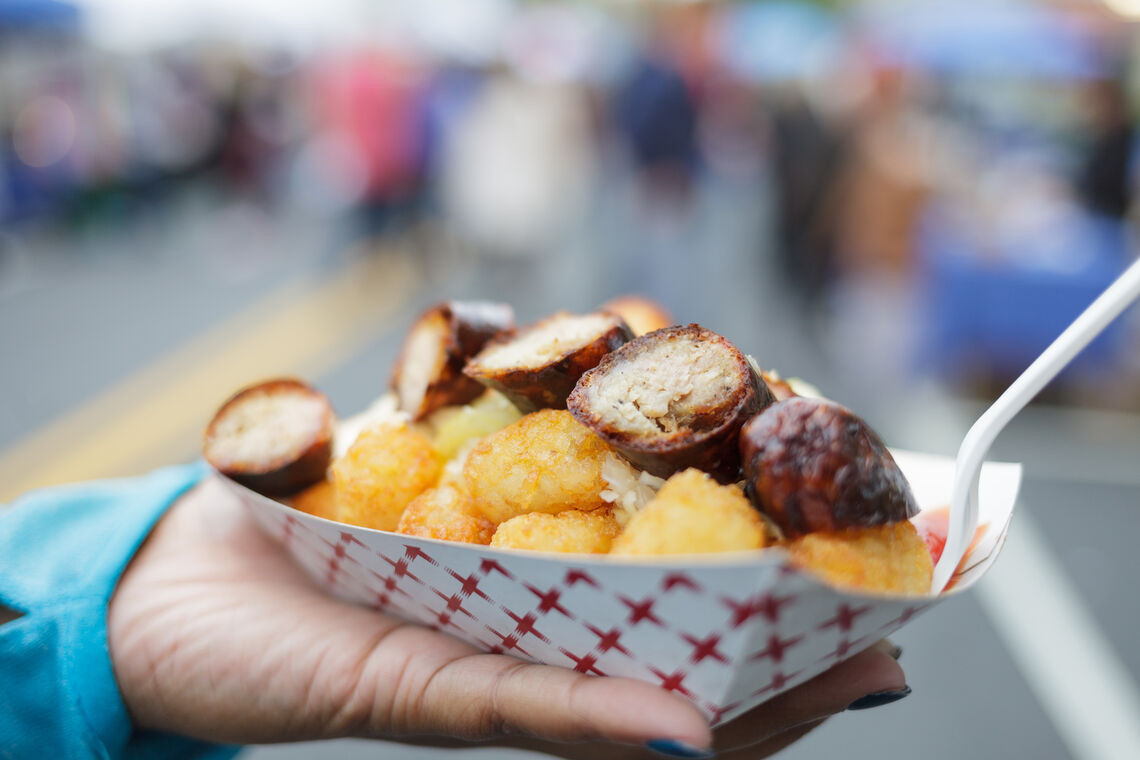 With the safety of our community a top priority, Roxborough's famed fall street festival goes virtual this year with "A Taste of Roxtoberfest: Virtual Food and Drink Crawl."
Residents of Roxborough and Northwest Philadelphia are invited to celebrate the fall season this year with A Taste of Roxtoberfest: A Virtual Food and Drink Crawl. This virtual crawl brings a taste of the Roxborough neighborhood's uniquely Philly spin on the world-renowned German Oktoberfest celebration to you. Online.
Throughout the week leading up to Saturday, October 3rd, @RoxboroughPA Facebook and Instagram pages will share exclusive behind-the-scenes interviews and specials from some of your favorite neighborhood restaurants. The featured Roxborough restaurants will showcase their offer of limited-time or fall-themed food and drink specials in tribute to our Roxtoberfest tradition.

HOW TO PARTICIPATE

1. Purchase food or drinks from a Roxborough restaurant on Saturday, October 3, 2020 at your comfort level whether through limited dining in, dining outdoors, take-out, curbside pick-up, or delivery.

2. Come together with your community online by sharing photos of the food and drinks purchased on Facebook or Instagram using the hashtag #TasteOfRoxtoberfest. Don't forget to tag the restaurant!

3. Congratulations, every #TasteOfRoxtoberfest post you make enters you in for a chance to win $150 worth of gift cards to Roxborough restaurants of your choice. Five lucky runners' ups will receive select RoxboroughPA pint glasses, sweatshirts or neighborhood swag
FEATURED RESTAURANTS
New Ridge Brewing Company, located at 6168 Ridge Avenue, will be offering their new and on theme 32-ounce Festbier crowler with a Hungarian Bratwurst sandwich. Patrons can find a variety of other beers both on tap and canned, and a new food menu to enjoy full-service patio dining or takeout. Open from 4:00 p.m. - 9:00 p.m. Wednesday to Thursday, Noon - 10:00 p.m. Fridays, 11:00 a.m. - 10:00 p.m. Saturdays, and 11:00 a.m. - 9:00 p.m. Sundays.
The Tavern on Ridge, located at 6080 Ridge Avenue, will be serving up Sesame Ginger Pumpkin wings along with a Pumpkin Spice cocktail. Diners can also find 'Tavern Seafood Boils', Specialty cocktails to go, or the Paesan sandwich which has house roasted pork on a long roll, horseradish cherry pepper spread, melted sharp provolone with a fried egg on top. Open from 4:00 p.m. - Midnight daily.
Taylor's Café, located at 6144 Ridge Avenue, will be featuring their festive Pumpkin Pancakes. Other staple menu items for customers to enjoy include the Chipped Beef and the Double Breakfast Burrito. Open from 8:00 a.m. to 2:45 p.m. daily.
Dream House Asian Bistro, located at 6127 Ridge Avenue, will be offering 15% off for take-out and delivery orders placed over the phone. Patrons can enjoy popular items like the Dancing Eel Dragon Roll and Shrimp Shumai, or other house specialties such as Mongolian Beef. Open from 11:00 a.m. - 10:00 p.m. Monday through Thursday, 11:00 a.m. - 11:00 p.m. Friday to Saturday, and Noon - 10:00 p.m. Sunday.
 
White Yak, located at 6118 Ridge Avenue, will be offering a fall Combo Special. Diners looking to order from Philadelphia's original Tibetan restaurant can also enjoy the Tibetan style curry or Shatrak. Open from 11:00 a.m. - 9:30 p.m. Tuesday through Sunday.