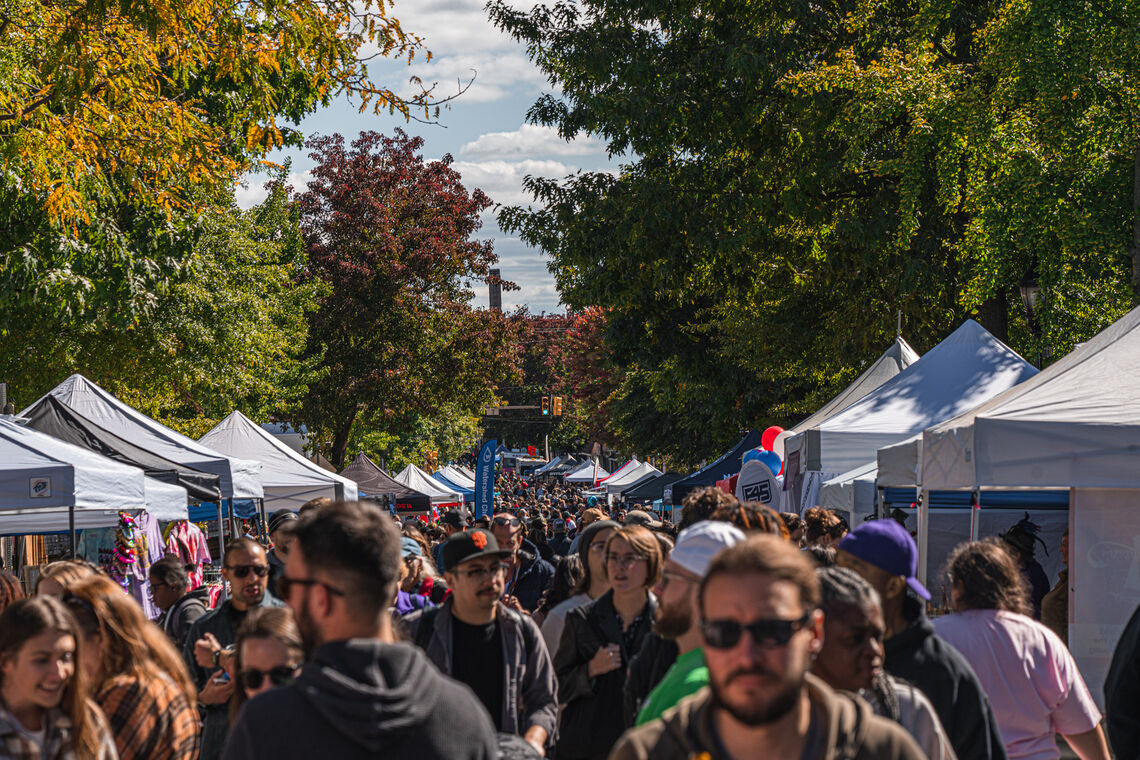 This year marked the Roxborough Development Corporation's 10th annual Roxtoberfest. It was the perfect fall day on Ridge Avenue and it turned out to be our biggest event yet with over 100 participants more than 8,000 attendees! The event spanned for four blocks on Ridge Avenue from Lyceum to Leverington Avenue. This year Gorgas Park was a part of Roxtoberfest too with kid's games, bouncy houses, music, and food!
The participants in the festival included a mixture of artists/crafters, non - profits, and sponsors. Local businesses invited attendees into their stores with promotions such as a momo special from White Yak and pizza slices from Santuccis! Many businesses like Roma's Pizza and Michael's Water Ice had lines out the door. 
Artists and crafters were selling a variety of items such as handmade soaps, candles, beauty products, clothing, pet bandanas, artwork, greeting cards, jewelry and more! Attendees picked up early holiday gift items and unique finds like Philly themed artwork. 
The food trucks were a hit with most of them selling out of food nearing the end of the festival. Among them was Calle del Sabor, The Chilly Banana, Kandy Ices, Epicure Eats, Taqueria dos Hermanos. At Gorgas Park Cannoli's Roast Pork, Deke's BBQ, and Hardy's Funnel Cakes satisfied hungry families after running around the bouncy houses. 
Many community groups got involved with Roxtoberfest by offering activities for kids and adults at their booths. Epic Church had crew of characters including Belle, Cinderella, a Minion, Spiderman, and Olaf! Face painting was very popular over at The Block Church booth and Watershed Church had everyone smashing pumpkins!
The mainstage at Lyceum Avenue had a full line up of bands playing an assortment of styles from German oopfah, country folk, funk, and rock. The festival kicked off with music from Polkadelphia playing the traditional Oktoberfest music which led into the stein holding competition. Ten competitors were given one-liter steins which they filled up with beer from New Ridge Brewing Co. They lined up in front of the stage and held their steins straight out until there was only one person still holding their stein steady. The winner received a gift card and a bag of goodies from New Ridge Brewing Co. and the RDC. After the competition the fun continued with live music from The Cheddar Boys, The Funkitorium, and The Providers. The bands at the mainstage drew in the crowd and had people up on their feet dancing.
Over at the Pocket Park there was a lot of activity going on with a pet costume contest and a best dressed lederhosen and dirndl contest. The winner of the pet costume contest was a family of sea-faring dogs including a pug dressed as a pirate in a red wagon. Roaming around the park was the accordionist, Ralph Salerno who returns year after year delighting festival goers with his folky songs. Acoustic Ferrari also brought great tunes to the park with acoustic covers of popular songs that had people singing along.
There was a surprise visit from Philly Surfers, a break-dancing team, that kept the crowd entertained on Green Lane with their impressive moves. Further down the street on Krams Avenue, Steven Carpenter played family friendly Halloween hits that made the October festival a little more spooky. Flyleaf the Book Fairy was also nearby acting out story books to the young ones and blowing bubbles. 
Overall, it was a fun-filled day on Ridge Avenue with something for everyone to enjoy and we can't wait to do it all again next year at Roxtoberfest 2023!
Thank you to all our sponsors who made this event possible! A special thanks to our title sponsor, Roxborough Memorial Hospital, and other major sponsors including Independence Blue Cross, Ken Crest, Baker Street Partners, DesignBlendz, The Galman Group, Shoprite, and Vybe Urgent Care.
See Roxtoberfest video recap here.