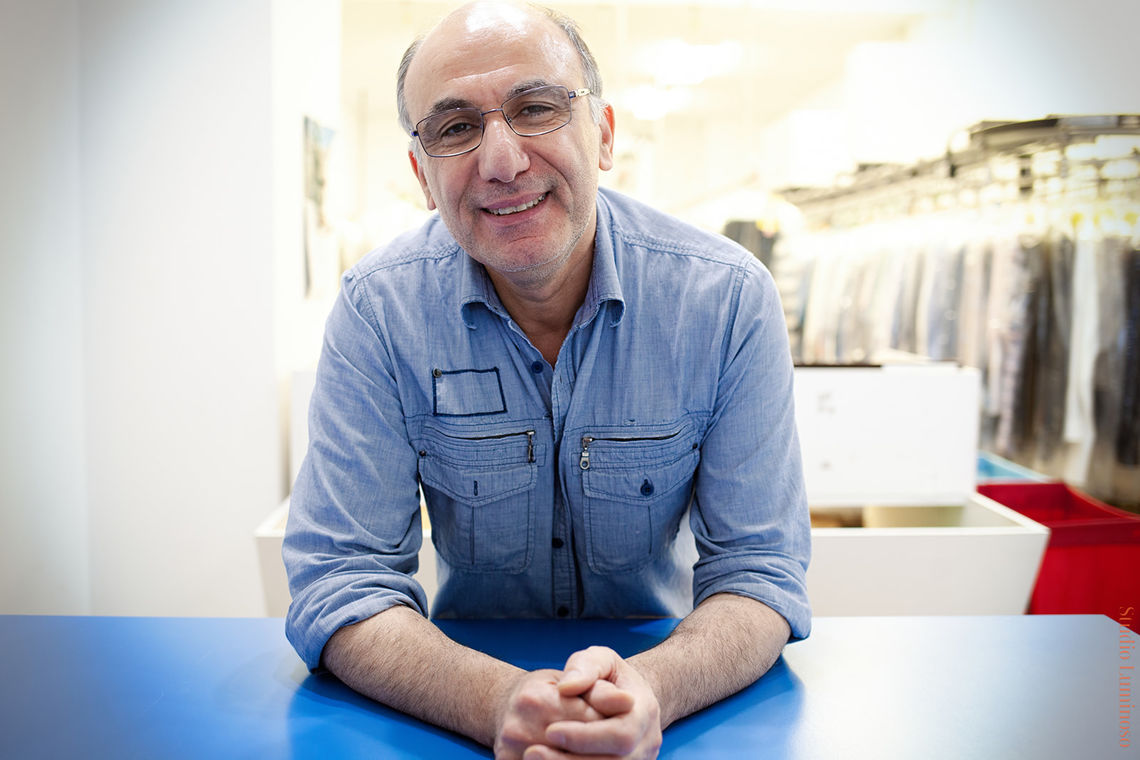 Jacques Kazanejian, the owner of Stanton Custom Cleaners on Ridge Avenue in Roxborough, remembers being puzzled the first time he received a certificate exclaiming that people loved his dry cleaner.
"I said, 'What's going on? What is it exactly?'' asked Kazenajian, regarding the certificate he recieved from the social review site, Yelp. "But then I went to website, I checked really my name is there, and the business name is there, and people there know me. And they're talking nice things about me.''
Indeed, they are. Stanton Cleaners averages an impressive five stars – the highest score possible – from 40 reviewers who've left comments about his business since 2012. Kazanejian, who emigrated to the US from Syria in 1988, displays the Yelp certificate declaring that "people love Stanton Custom Cleaners on Yelp!" on the back of his computer at the dry cleaner's counter.
"The reviews on here say it all,'' says one reviewer. "Jacques is very responsive, professional, classy, and friendly, and his prices are very reasonable.''
"I have been going to Stanton Cleaners for the past 10 years and it is by far the best cleaners around,'' writes another satisfied customer. "Extremely helpful staff, the owner is very friendly and always willing to give his advice. Prices are excellent. I highly recommend Stanton Custom Cleaners!''
Kazanejian is proud of providing great service at a great price. Customers trust him with about 1,300 pieces of clothing per week to launder or dry-clean.
"The most important part is the quality of the work,'' he said. "You have to spend time to give the best quality you can for the customers.''
"The most important part is the quality of the work,'' he said. "You have to spend time to give the best quality you can for the customers.''
Kazenejian is an Armenian who was born and raised in Syria. With political strife in his country, he left Syria to pursue "a new life or better opportunity.'' When he arrived in the United States, he first lived in Los Angeles where he met his wife, Maral, who is also an Armenian from Syria. The couple have a son, Troy, who is now 11-years old.
In 2000, the couple relocated to Philadelphia where Maral's family had previously settled. Maral's brother owned the Stanton's on Manayunk Avenue, so Kazenejian went to work with his brother-in-law and opened a second location.
During the first few years, business was slow because Roxborough had yet to have an influx of millennials, according to Kazanejian. But by the mid-2000s, more young professionals who needed their clothes cleaned for their jobs were moving into the area.
"The business kind of started getting better and better,'' he said. "And with the quality of the work that we were doing, I think the customers got very happy and they started commenting to each other.''
By 2010, business had picked up so much that he bought out the second location from his brother-in-law, then moved it a few doors north settling in its current location at 6112 Ridge Avenue.
The business of dry cleaning is different from the work he did when he first arrived in the United States when he worked as a diamond setter for a large firm. But Kazanejian has embraced his new identity.
"I like it,' he said. "That's why I end up almost 19 years doing this business. I'm a social guy, so I like to meet the people that come in and talk as a customer. Some of them, they become as a friend after a while.''
The business has been good to him.
"When I started working as a dry cleaner, I gave myself a chance,''
"When I started working as a dry cleaner, I gave myself a chance,'' he said, with his Syrian accent still discernible. "I didn't know it's going to work or not and how much lucky I will be. But by time, I really start loving the job. And seeing people and doing my job the right way. And I started seeing positive things and this is one of them, you know?''
In short, Kazanejian is living the American dream.
"Land of opportunity, right?," he said. "Somehow it's working for me. My dream come true. I got my own house, I got the property, I got another house. I'm kind of lucky. I'm considered lucky. I stay healthy and work, that's all."
Stanton Customer Cleaners is located at 6112 Ridge Avenue, Philadelphia, PA  19128
Hours are:
Monday - Friday: 8:00 a.m. - 6:30 p.m.
Saturday: 8:30 a.m. - 5:00 p.m.
Sunday: Closed
Contact Stanton Custom Cleaners at 215-483-9693.