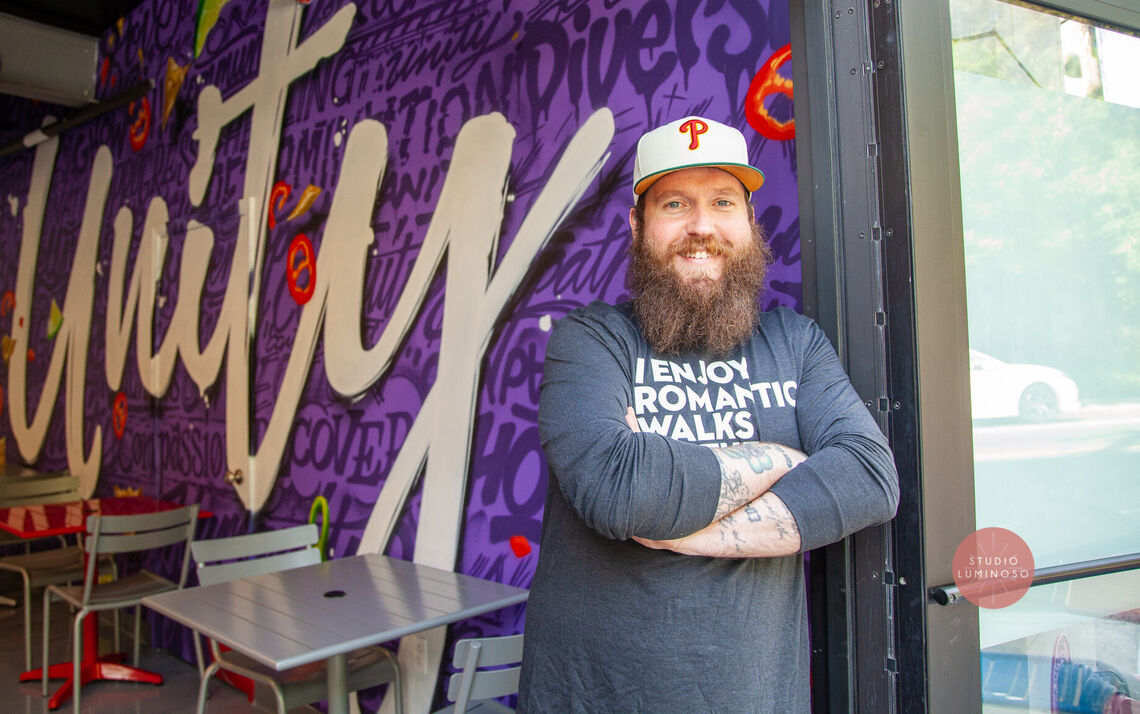 Ridge Avenue's latest restaurant, Unity Taqueria, gets the Tex-Mex details right and expands a couple's mission to help those in recovery.
Robert and Arielle Ashford were getting tacos in Manayunk a couple of years ago and they shared a moment of disappointment.
"Being from Texas and she's from the West Coast, we were like, 'These tacos are just not there. There's no queso. There's no Tex-Mex flavor. There's no street tacos." Robert said. "Arielle said, 'Why don't you just start a restaurant?' I think she said it somewhat flippantly, but it planted that seed."
Opening up a restaurant in the middle of a global pandemic is not the sort of thing the average working parents would do. The Ashfords, however, are simply not the sort of couple to shy away from a challenge. In fact, keeping extraordinarily busy is clearly something they just do.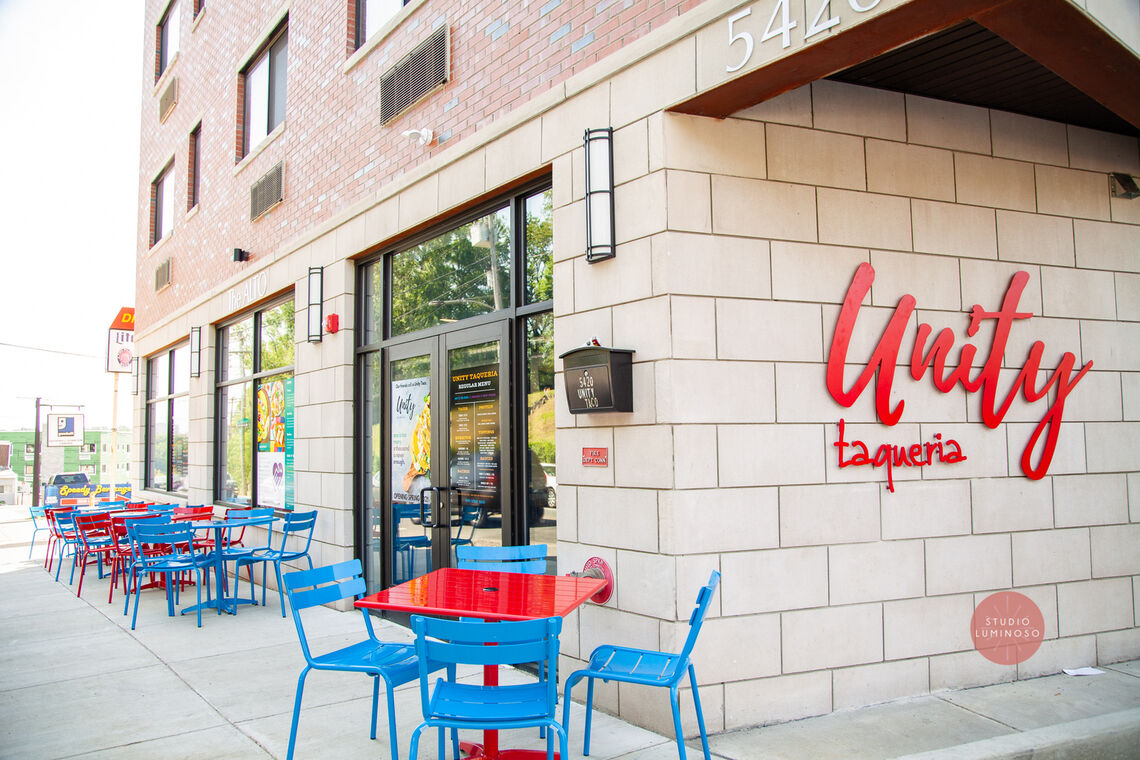 Sitting in the tastefully minimal and modern dining room of the brand-new Unity Taqueria at 5420 Ridge Ave., Robert describes a life full of enterprise. In addition to the brand-new restaurant, the couple owns two Unity Yoga studios, a community center, a consulting firm AND a software company.
While that portfolio of business interests may seem relatively disjointed, everything the Ashfords do is rooted in a mission around recovery. Recovery and treatment not only brought them together but is foundational in every business venture they've undertaken. And Unity Taqueria is no different.
"I just celebrated eight years [in recovery] on May 12th,"," Robert said. "So it's part of all of our what our mission is. What the yoga studios do… what the community center does. It is all centered in our personal recovery and just wanting to give back.  My wife's in recovery, too. I think our guiding truth is that everybody should have access to resources and that may include treatment, and support, and a high paying (or at least a living wage) job and opportunities. Those things weren't around ten years ago when we were going through this, so we made it our life's mission to try to have a positive impact."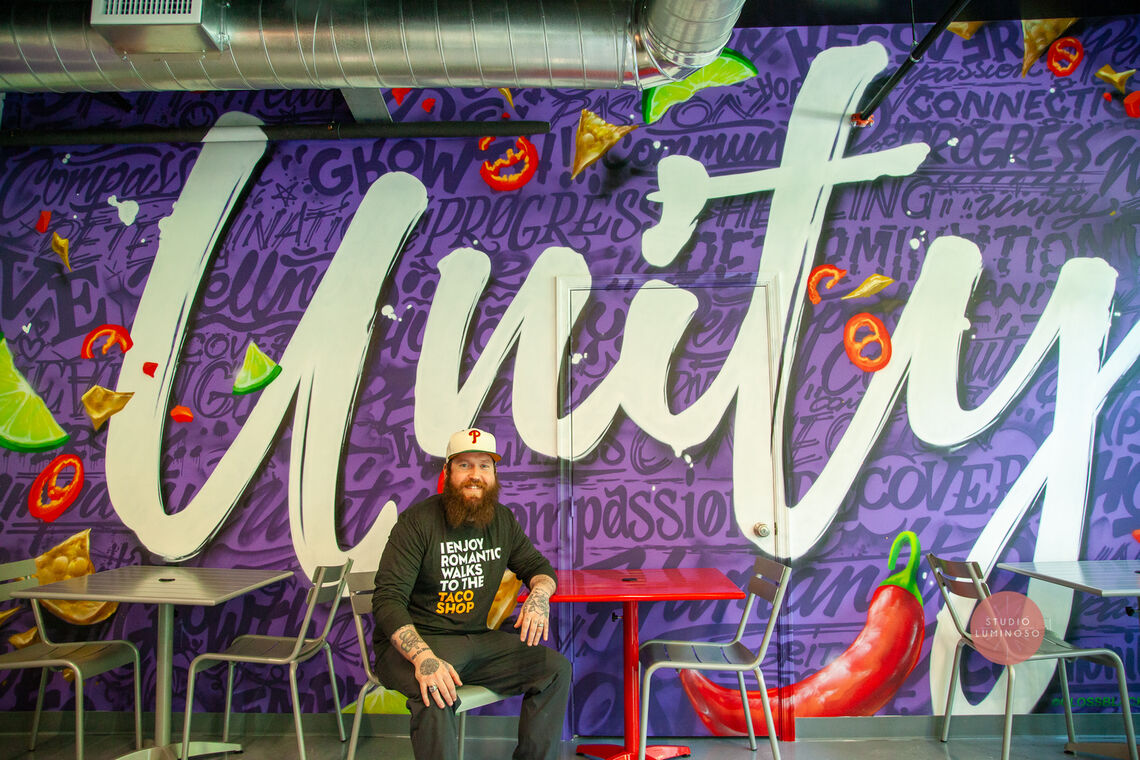 Robert met Arielle at a White House event (yes, THE White House) in 2015. Both were there for a summit on addiction, recovery, and the Affordable Care Act. Today they're married with a two-year-old daughter named Penelope and a home in Roxborough they purchased in February of 2020.
"Moving to Manayunk a few years ago for business is what got us introduced to the area and we fell in love with Manayunk, Roxborough, Chestnut Hill and other surrounding parts of the city, so we started looking for houses and moved here," Robert said. "I think for us, going into neighborhoods where we can make a positive impact and where the neighborhood seems receptive is always a good thing."
To fulfill the mission, the Ashfords prioritize hiring people with a connection to recovery or the criminal justice system. They hire people who are or have family members in treatment or with pasts that include prison time. They maintain a minimum wage of $15 an hour for all new hires and offer their employees career development and access to other services from their businesses. A Unity Taqueria employee can get free recovery yoga classes, for example.
The practice, Robert said, is not simply about charity or altruism. It's about building meaningful relationships that benefit his family as well.
"Giving back to the recovery community pays dividends," he said. "People ask, 'Why would you want to focus your for-profit businesses on [recovery] and not just non-profits?' Some of the best people I've ever hired are in that community. I mean the way that community gives back to us for supporting them, truly the return on investment is just exponential."
And while the recovery mission is front and center in what the Ashfords do, Robert said that he is still very much focused on making Unity Taqueria a great taco restaurant. The small dining room is wonderfully modern with a large digital screen displaying a simple menu from which customers can choose a set of ingredients to build their tacos.  They can order on touch screens at the counter. On one wall is a remarkable mural by Philadelphia artist Jimmy Glossblack. It features the cursive Unity logo with references to words important to the Ashfords' recovery mission.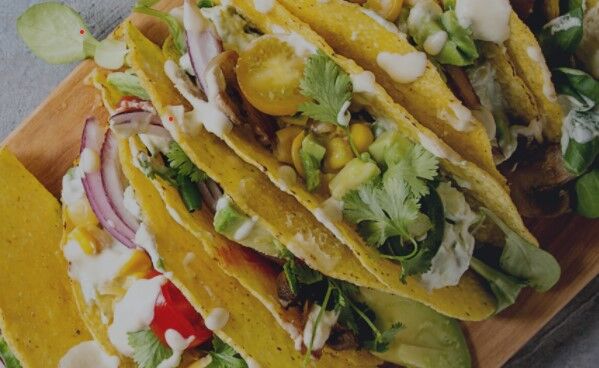 The main thing that distinguishes Unity Taqueria from others in the area, Robert says, is the queso.
"It's not like what you would find in most places where it's like either the nacho cheese or like queso fundido, which is really just really thick melted cheese," he said. "Tex Mex style queso is liquified, just phenomenally tasting, greatly spiced melted cheese. "It looks like liquid gold."
Robert also said that he was sure to have a vegan, gluten-free option for customers.
While originally slated for an October 2020 opening, the Ashfords decided to wait while Covid rates worsened. They held the restaurant's first "soft opening" on May 15 and will open for regular business hours on June 12. With the city reopening and people eager to get out, Robert thinks it's the right time. In fact, he's still looking to hire between five and ten more people, expecting increasing demand when the business opens regularly
He says he's also been blown away by the response from the neighborhood. He praised his landlord, MGMT management, and the hundreds of customers he's served during their limited weekend hours. They all not only like the food but support the mission. Other neighborhoods, he said. Might not be as excited to welcome a business centered around recovery.
"The level of support we've gotten, between social media and people coming in and sharing their stories with us, the people we've met and the people we've gotten to hire, it's really cool to see it all coming together," he said. "There are parts of the city where that wouldn't be possible and it's possible here. It speaks to the kind of neighborhood community vibe of Roxborough generally."
Unity Taqueria is located at 5420 Ridge Avenue. See the menu before you go or order online at unitytaco.com