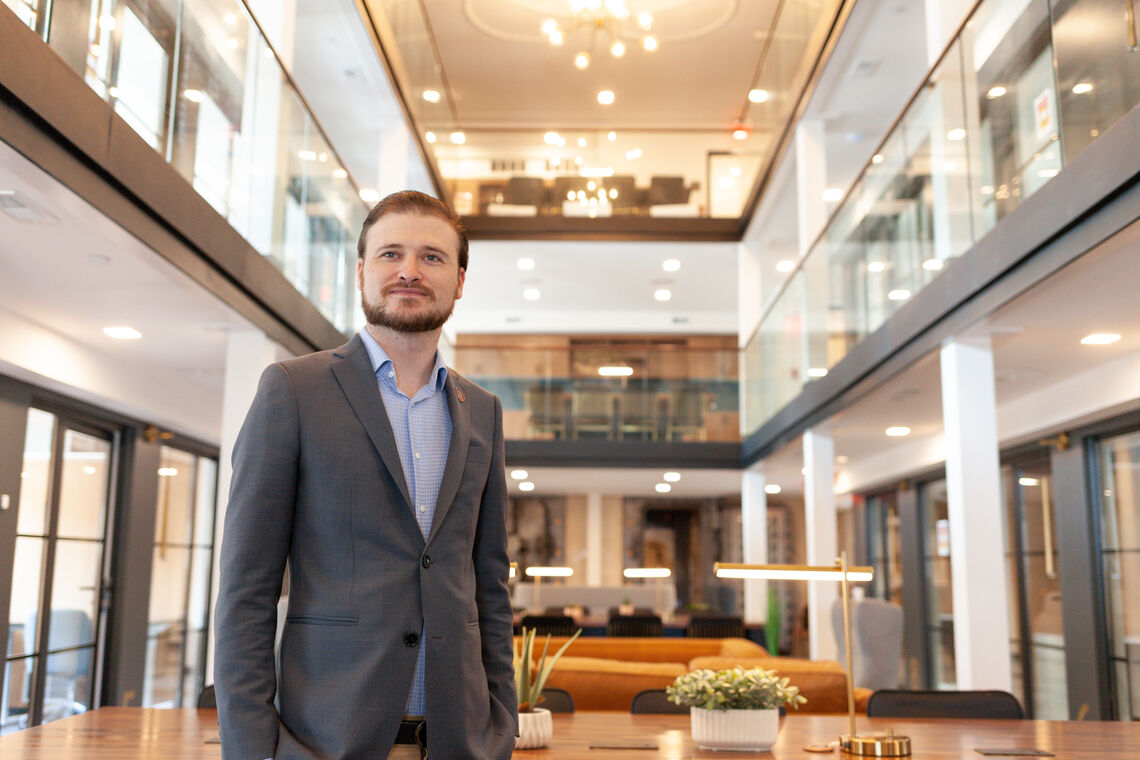 As it approaches its 100th birthday, the old Roxborough Trust Company bank building is being reborn as The Vault Roxborough.
The ornate building, a prime example of Beaux-Arts architecture, has sat on the corner of Green Lane and Ridge Avenue since 1924. It's a familiar sight for generations of locals. After spending the past decade empty and overlooked, it has been brought back to life for a thoroughly modern use.  
The Vault Roxborough will be headquarters for local developer Vaughan Buckley and his company Volumetric Building Companies (VBC), as well as a community co-working space offering dozens of offices for small businesses. The three-story structure will bring more than 10,000 square feet of commercial space to Ridge Avenue.  
Buckley, who purchased the building in 2018, was simply looking to move his expanding business from a Leverington Street location to a larger space on Ridge. He ended up dreaming up a plan that will benefit the whole community.
The project, nearly two years in the making, managed to maintain the architectural integrity and repurpose nearly all of the bank's stunning original marble floors, interior fixtures and plaster ceiling, while creating a three-story work space featuring dozens of small private offices and work areas. The areas are available for rent starting this week.
"It came down to a commercial corridor that had a lack of office space," Buckley said. "Most retail [space] is not set up to be converted to offices and they are expensive to retrofit.
For us, it was, 'How do we make it easy for other companies who want to have roots in Roxborough but couldn't afford office space of their own?'"
"How do we make it easy for other companies who want to have roots in Roxborough but couldn't afford office space of their own?"
After the Wachovia Bank left the property in 2010, it sat vacant. In 2016, the Philadelphia Historic Commission added it to the City's Register of Historic Places to preserve it and prevent it from being torn down. But it wasn't until Buckley, who had been headquartered out of a site he refurbished several years ago on Leverington Street, set eyes on the former bank that its reincarnation took shape.
While Buckley's company typically focuses on building multi-family housing, such as 4125 Chestnut Street, he knew the bank building was a one-of-a-kind project that he was willing to take on. He thought that, along with setting up his headquarters there to accommodate his expanding staff, an added bonus for the community would be creating office space for small businesses, and in turn, creating added foot traffic to the corridor for increased retail activity.
"We knew that there wasn't a lot that could be done with it," Buckley said. "So we tried to preserve the space… preserve what's here. We did it for love. It's not our typical development."
"We tried to… preserve what's here. We did it for love. It's not our typical development."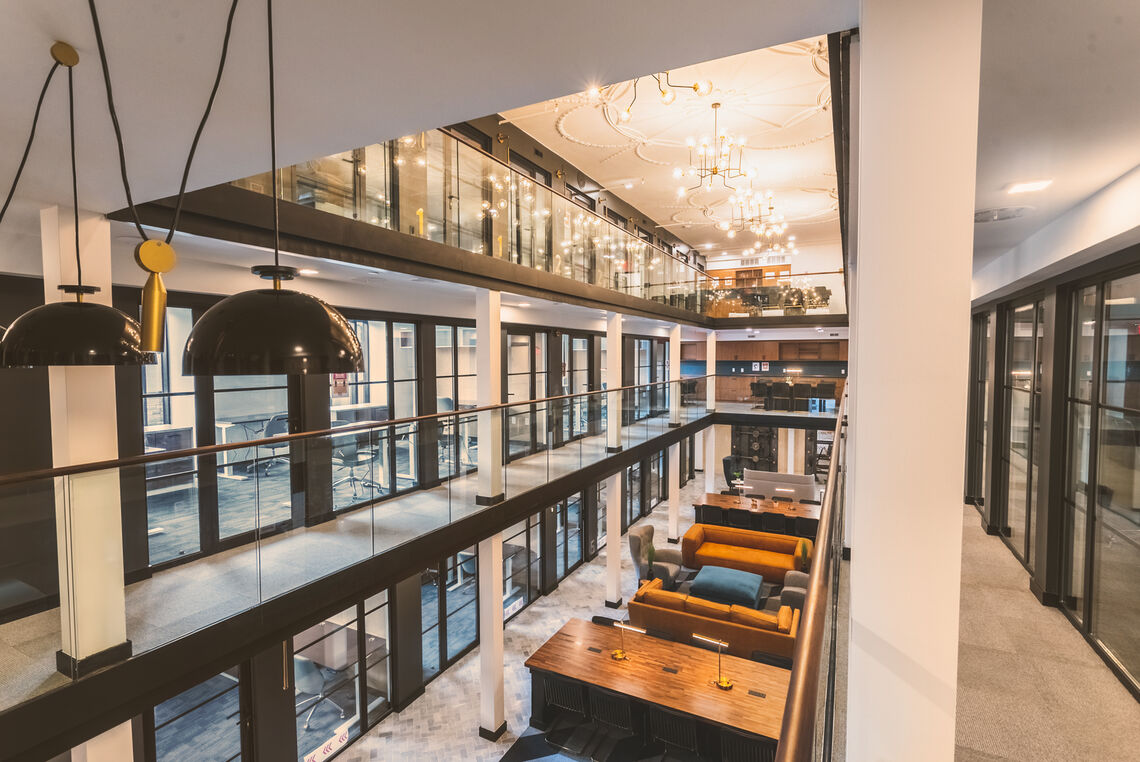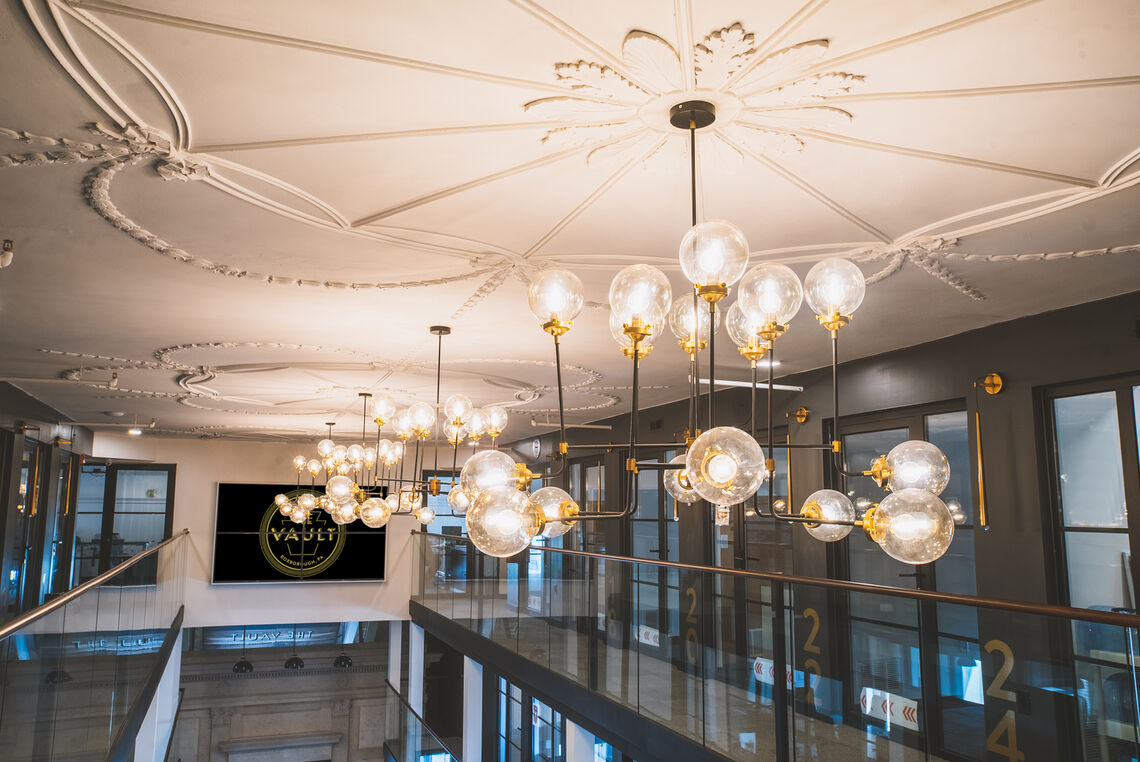 "I think it is going to be wonderful for Roxborough," added Shawn Hendrix, VP of marketing for VBC. "It will help revitalize the business district and it will bring professionals back for lunches."
Last week, the staff began doing tours by appointment for those who register at thevaultrox.com. This week, they will begin to sign lessees for the office spaces. To become a member of the building, companies can lease a space that holds anywhere from one to five employees and will enjoy standard office amenities within the three-story structure. While the first floor is outfitted with two conference rooms and offices, the vestibule will capture the feel of the original marble entrance to the bank. The second floor includes additional offices and the third floor includes "cozy" offices, along with a common area with library-style tables.
The team has also made COVID-19 precautions a part of the building's design. In addition to offices being private, members will have their temperatures take upon entering, and will use staircases designated as specifically either up or down. Hallways have also been outfitted as one-way access points.
The bank's plaster ceilings, its staircase and center atrium will be visible and celebrated throughout the space. The original bank vault is now a conference room, and Buckley's personal office is the former bank manager's office.
"This was really about taking a building that was underutilized and using it to its greatest potential," said Sara Logan, VP of design for VBC. "We kept that same grandeur but allowed the space to open up in such a way that you could get smaller, more tranquil environments.
"It's a formal piece of architecture, but as accessible as possible."
Hendrix, who has been working with VBC on the opening for nearly a year, says the ultimate goal was to save the building, which has been such a tremendous part of life in Roxborough for so long.
"A lot of folks grew up with that building on the corner," Hendrix said. "The community is very familiar with it. They used to have the Santa come on the corner. The building is still recognizable to them. We were able to bridge the gap."
Looking forward, Buckley hopes to eventually develop the basement of the property in a big way. Whether it will be more offices, or even a restaurant, he is open to additional revitalization of the neighborhood.
"It's not just a typical co-working space," Buckley said. "We really want this space to be a part of the community."
"It's not just a typical co-working space. We really want this space to be a part of the community."